Among crossover SUVs, the Subaru Outback stands out for its rugged good looks, high ride height, and standard all-wheel drive. This is a popular option for drivers who need a car that can handle rough terrain and bad weather without sacrificing the amenities of a regular car. Many
The 2023 Subaru Outback comes in 9 types or trim levels, namely:
Base
Premium
Onyx Edition
Limited
Touring
Onyx Edition XT
Wilderness
Limited XTTouring XT
In this guide, I'll go into detail about each Subaru Outback type, as well as show the comparisons in size and standard features of all Outback types.
The Evolution of the Subaru Outback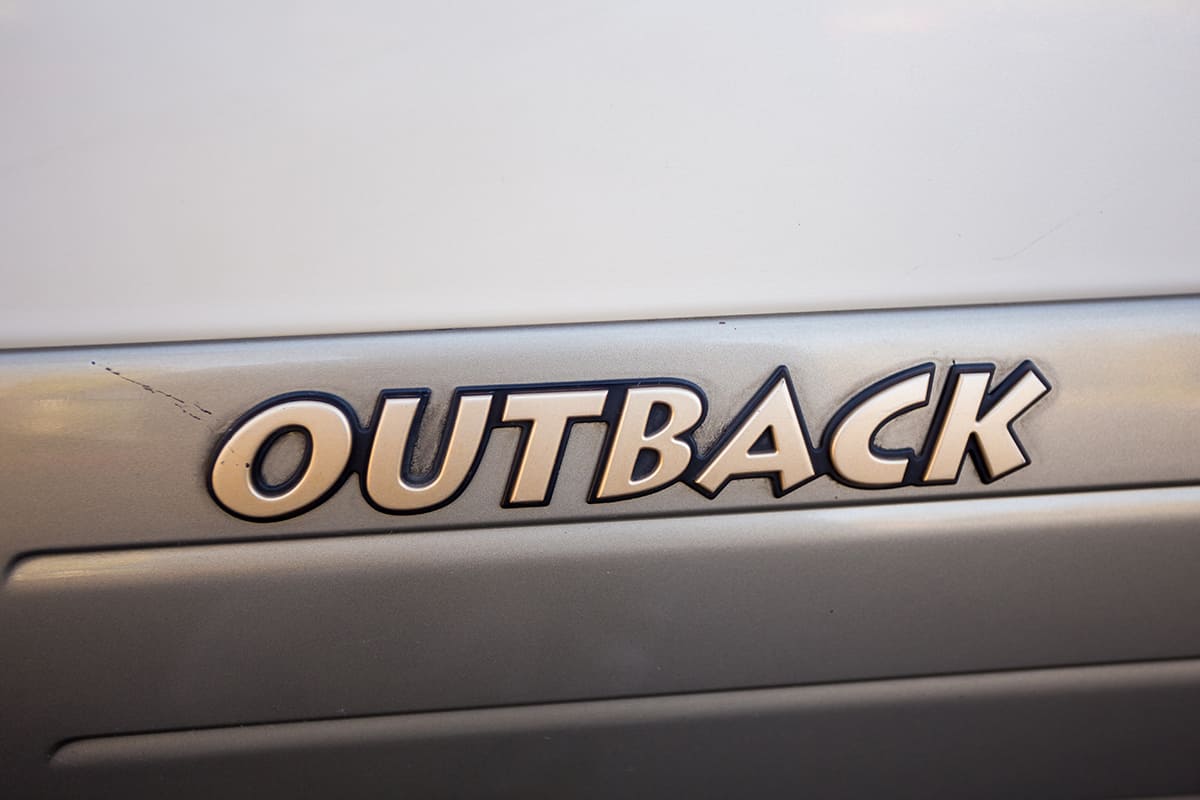 The Subaru Outback was initially developed in 1994 as an option package for the classic Legacy station wagon. Similar to how it looks today, the Outback package had off-road capabilities and a rugged appearance that set it apart from traditional Legacies. Due to its tremendous success, Subaru created a separate line for the Outback just a year later.
Today, the Subaru Outback is in its sixth generation after undergoing countless redesigns and updates. In 1998, we saw an overhaul of the Outback's outer appearance and engine power, and 5 years later, it would undergo another massive redesign that made it more intimidating and more fuel-efficient.
The Subaru Outback has been refined and modernized over the past few years. It has recently been updated to include numerous cutting-edge safety and technology features and conventional or hybrid fuel options. Off-roading enthusiasts and those who simply enjoy spending time in the great outdoors have also found the Outback to be an excellent option.
Types of Subaru Outbacks
The 2023 Subaru Outback is available in 9 distinct types or trim levels. Let's take a close look at each one to see which is the right type for you.
Base
The 2023 Subaru Outback is ready for any adventure, thanks to its standard all-wheel-drive system that sends power to all four wheels at once, or more power is sent to the appropriate wheels depending on the terrain. With the 8.7-inch ground clearance, you'll find the base Outback capable of traveling wherever you want.
Key features:
182-HP 2.5-liter Subaru Boxer 4-cylinder engine
2,700 lbs. towing capacity
17-in. Aluminum-alloy wheels
Adaptive LED headlight steering
LED daytime running lights and fog lights
Powered moonroof that can tilt and slide
Automatic door locks
EyeSight
Storage bins beneath the cargo floor with a detachable tray
Premium
The Outback Premium offers more than the Base trim in terms of entertainment. You will find Bluetooth connectivity, Sirius XM radio, and wireless Apple CarPlay and Android Auto features in the upgraded infotainment system.
Key features:
SUBARU STARLINK Multimedia Plus system with 11.6-in. display
4G LTE Wi-Fi capability
Illuminated ports for USB-A and USB-C charging, as well as the front USB-C input
Heated front seats
Onyx Edition
You can take the 2023 Subaru Outback Onyx Edition pretty much anywhere, as it is an all-wheel-drive midsize SUV with excellent off-road capabilities. If you won't be traversing any particularly steep or rocky terrain, the Onyx Edition should be more than sufficient for your needs.
Key features:
X-MODE traction and control optimization system
18-in. aluminum-alloy wheels
Power liftgate with height memory and push-button vehicle lock for hands-free operation.
Automatic blind spot monitoring with lane departure warning and rear traffic alert
HomeLink auto-dimming compass mirror
Limited
The 2023 Subaru Outback Limited comes standard with a 12-speaker Harman Kardon premium audio system, delivering booming, crystal-clear sound.
Key features:
18-in. aluminum-alloy wheels with a machine-black finish
Power adjustable front seats
Heated rear outboard seats
Leather-trimmed upholstery
Touring
Relax in the Subaru Outback Touring's plush Nappa leather seats while being guided to your destination by the state-of-the-art navigation system.
Key features:
2.5-liter SUBARU BOXER 4-cylinder
Satin chrome finish
Power-folding side mirrors with integrated turn signals
DriverFocus distraction mitigation system
Heated steering wheel
SUBARU STARLINK Multimedia Navigation system with 11.6-in. display
Onyx Edition XT
The Onyx and Onyx XT are similar in appearance, but what's under the hood will blow your mind. The Onyx XT is equipped with a 260-horsepower, 277-pound-foot torque 2.4-liter turbocharged Boxer engine. The upgraded Boxer engine generates 182 hp and 176 lb.-ft. of torque.
Key features:
260-HP 2.4-liter turbocharged SUBARU BOXER 4-cylinder engine
Crystal black silica-finish folding side mirrors with integrated turn signals
StarTex water-repellent upholstery
Wilderness
The Outback Wilderness caters to the most daring drivers. The lifted suspension provides an additional 9.5 inches of ground clearance, while the obstacle-clearing bumper designs, front skid plate, and Yokohama GEOLANDAR all-terrain tires further enhance its utility on rougher expeditions.
Key features:
Advanced dual-mode X-MODE
LED hexagonal-style fog lights
Black finish folding side mirrors with integrated turn signals
Limited XT
You will find the same premium-quality features of the Limited in the upgraded Limited XT but with a beefier engine.
Key features:
All-season tires
Crystal black silica-finish folding side mirrors with integrated turn signals
2-position driver's seat and power mirror memory
Leather-trimmed upholstery
Harman Kardon premium audio system
Touring XT
Seating upgrades are standard on the top-tier Outback Touring XT.
Key features:
Satin chrome finish
Power-folding side mirrors with integrated turn signals
Body-color door handles with chrome insert
Smart auto-dimming rearview compass mirror with HomeLink
Nappa leather-trimmed upholstery
Ventilated front seats
Comparison Charts of All Subaru Outback Types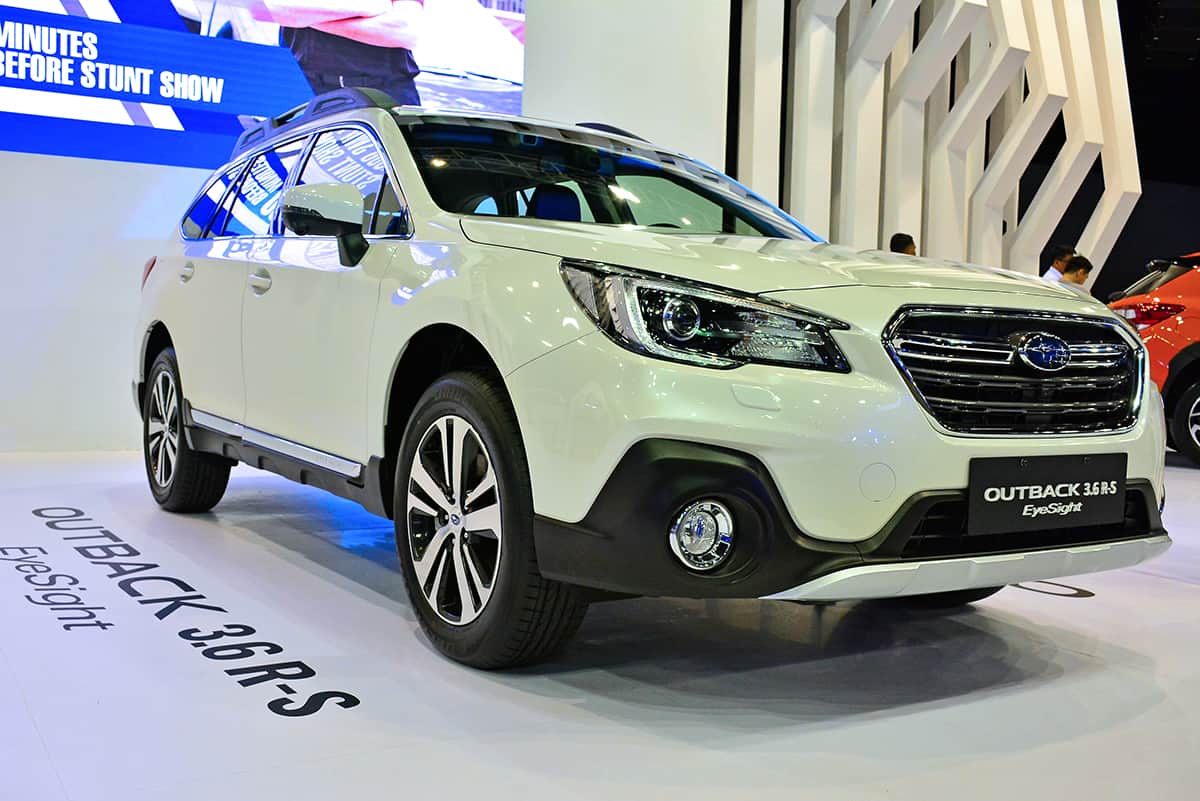 Interior Measurements
| | | | | | | |
| --- | --- | --- | --- | --- | --- | --- |
| Outback Trim | Headroom (f/r) | Legroom (f/r) | Shoulder room (f/r) | Passenger volume | Cargo volume | Max cargo volume |
| Base | 40.1 in./39.1 in. | 42.8 in./39.5 in. | 58.1 in./57.4 in. | 109 cu. ft. | 32.6 cu. ft. | 75.6 cu. ft. |
| Premium | 40.1 in./39.1 in. | 42.8 in./39.5 in. | 58.1 in./47.4 in. | 109 cu. ft. | 32.6 cu. ft. | 75.6 cu. ft. |
| Onyx Edition | 40.1 in./39.1 in. | 42.8 in./39.5 in. | 58.1 in./47.4 in. | 109 cu. ft. | 32.6 cu. ft. | 75.6 cu. ft. |
| Limited | 40.1 in./39.1 in. | 42.8 in./39.5 in. | 58.1 in./47.4 in. | 109 cu. ft. | 32.6 cu. ft. | 75.6 cu. ft. |
| Touring | 39.1 in./39.1 in. | 42.8 in./39.5 in. | 58.1 in./47.4 in. | 107.5 cu. ft. | 32.6 cu. ft. | 75.6 cu. ft. |
| Onyx Edition XT | 39.1 in./39.1 in. | 42.8 in./39.5 in. | 58.1 in./47.4 in. | 107.5 cu. ft. | 32.6 cu. ft. | 75.6 cu. ft. |
| Wilderness | 40.1 in./39.1 in. | 42.8 in./39.5 in. | 58.1 in./47.4 in. | 109 cu. ft. | 32.6 cu. ft. | 75.6 cu. ft. |
| Limited XT | 39.1 in./39.1 in. | 42.8 in./39.5 in. | 58.1 in./47.4 in. | 107.5 cu. ft. | 32.6 cu. ft. | 75.6 cu. ft. |
| Touring XT | 39.1 in./39.1 in. | 42.8 in./39.5 in. | 58.1 in./47.4 in. | 107.5 cu. ft. | 32.6 cu. ft. | 75.6 cu. ft. |
Exterior Measurements
| | | | | | | |
| --- | --- | --- | --- | --- | --- | --- |
| Outback Trim | Length | Width | Height | Wheelbase | Track (f/r) | Ground clearance |
| Base | 191.9 in. | 74.2 in. | 66.1 in. | 108.1 in. | 61.8 in./62.8 in. | 8.7 in. |
| Premium | 191.9 in. | 74.2 in. | 66.1 in. | 108.1 in. | 61.8 in./62.8 in. | 8.7 in. |
| Onyx Edition | 191.9 in. | 74.2 in. | 66.1 in. | 108.1 in. | 61.8 in./62.8 in. | 8.7 in. |
| Limited | 191.9 in. | 74.2 in. | 66.1 in. | 108.1 in. | 61.8 in./62.8 in. | 8.7 in. |
| Touring | 191.9 in. | 74.2 in. | 66.1 in. | 108.1 in. | 61.8 in./62.8 in. | 8.7 in. |
| Onyx Edition XT | 191.9 in. | 74.2 in. | 66.1 in. | 108.1 in. | 61.8 in./62.8 in. | 8.7 in. |
| Wilderness | 191.3 in. | 74.6 in. | 66.9 in. | 108.1 in. | 62.0 in./63.0 in. | 9.5 in. |
| Limited XT | 191.9 in. | 74.2 in. | 66.1 in. | 108.1 in. | 61.8 in./62.8 in. | 8.7 in. |
| Touring XT | 191.9 in. | 74.2 in. | 66.1 in. | 108.1 in. | 61.8 in./62.8 in. | 8.7 in. |
Miscellaneous
| | | | | | |
| --- | --- | --- | --- | --- | --- |
| Outback Trim | MSRP | Mileage (hwy/city) | Fuel tank capacity | Base curb weight | Max towing capacity |
| Base | $28,395 | 32/26 | 18.5 gallons | 3,641 lbs. | 2,700 lbs. |
| Premium | $30,695 | 32/26 | 18.5 gallons | 3,661 lbs. | 2,700 lbs. |
| Onyx Edition | $33,495 | 32/26 | 18.5 gallons | 3,692 lbs. | 2,700 lbs. |
| Limited | $35,295 | 32/26 | 18.5 gallons | 3,375 lbs. | 2,700 lbs. |
| Touring | $39,845 | 32/26 | 18.5 gallons | 3,781 lbs. | 2,700 lbs. |
| Onyx Edition XT | $38,595 | 29/22 | 18.5 gallons | 3,921 lbs. | 3,500 lbs. |
| Wilderness | $38,445 | 26/21 | 18.5 gallons | 3,902 lbs. | 3,500 lbs. |
| Limited XT | $39,695 | 29/22 | 18.5 gallons | 3,931 lbs. | 3,500 lbs. |
| Touring XT | $42,295 | 29/22 | 18.5 gallons | 3.946 lbs. | 3,500 lbs. |
Safety features
| | | | | | | |
| --- | --- | --- | --- | --- | --- | --- |
| Outback Trim | EyeSight | High Beam Assist | DriverFocus | Blind-Spot Detection | Reverse Automatic Braking | 180° Front View Monitor |
| Base | Standard | Standard | N/A | N/A | N/A | N/A |
| Premium | Standard | Standard | N/A | Optional | N/A | N/A |
| Onyx Edition | Standard | Standard | N/A | Standard | Optional | N/A |
| Limited | Standard | Standard | Optional | Standard | Standard | N/A |
| Touring | Standard | Standard | Standard | Standard | Standard | Standard |
| Onyx Edition XT | Standard | Standard | N/A | Standard | Standard | Standard |
| Wilderness | Standard | Standard | N/A | Standard | Optional | Standard |
| Limited XT | Standard | Standard | Standard | Standard | Standard | N/A |
| Touring XT | Standard | Standard | Standard | Standard | Standard | Standard |
Amenities
| | | | | | | |
| --- | --- | --- | --- | --- | --- | --- |
| Outback Trim | Keyless with Push Starter | Power Rear Gate | 2-position Power Driver Seat | Auto-dimming Rearview Mirror | Power Moonroof | STARLINK |
| Base | N/A | N/A | N/A | N/A | N/A | 7 in. |
| Premium | Optional | Optional | N/A | N/A | Optional | 11.6 in. |
| Onyx Edition | Standard | Standard | N/A | Standard | Optional | 11.6- n. |
| Limited | Standard | Standard | Standard | Standard | Optional | 11.6 in. |
| Touring | Standard | Standard | Standard | Smart | Standard | 11.6- n. + Navigation |
| Onyx Edition XT | Standard | Standard | N/A | Standard | Optional | 11.6 in. + Navigation |
| Wilderness | Standard | Standard | N/A | Standard | Standard | 11.6 in. |
| Limited XT | Standard | Standard | Standard | Standard | Standard | 11.6 in. + Navigation |
| Touring XT | Standard | Standard | Standard | N/A | Standard | 11.6 in. + Navigation |