The Subaru Outback is known for a lot of things, including its adventurous design and rugged build. But customers have been disappointed by the lack of sunroofs on past models. So, does the new 2023 Subaru Outback come with a sunroof?
You will not find a sunroof on any version of the 2023 Subaru Outback. However, what you will find is a moonroof in select Outback trims, as well as the option to install moonroofs on other versions.
In this guide, I'll explain the differences between sunroofs and moonroofs, which 2023 Subaru Outback trims come with moonroofs, and why you would want a moonroof on your car, to begin with.
Sunroof vs. Moonroof
Something many first-time car shoppers look for is a glass panel on the roof of their car. This panel allows for natural sunlight to pour into the car without allowing in the harshness of the natural elements, such as rain and snow. Most people will know this as a sunroof.
A sunroof is a slidable or removable glass panel installed on the ceiling and roof of the car. It's mainly found in SUVs and sedans, and it can add a whole bunch of class and style to your vehicle.
However, what most people don't know is that sunroofs and moonroofs are completely different, though they share the same characteristics and purposes.
A moonroof is a glass panel installed on the roof and ceiling of a car. It will have a sliding panel that opens and shuts the glass to allow or prevent sunrays from scorching the vehicle's passengers. Most moonroofs cannot be removed or popped out, though some of them may be tilted to allow tiny amounts of air into the cabin.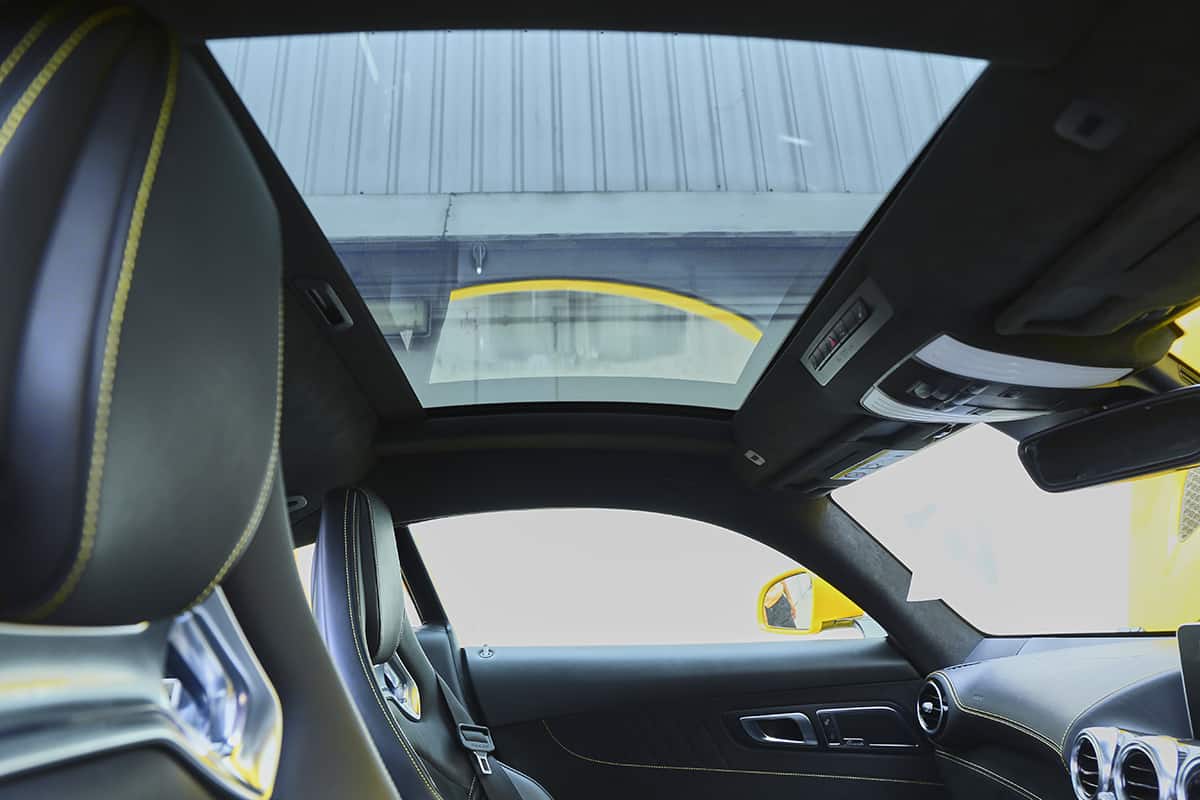 In addition, moonroofs usually have tinted windows. That way, you can leave the roof uncovered and not have to worry about super-bright sunbeams burning your skin while you cruise down the road.
So, if you're looking for a glass panel on top of your car, make sure you know the differences between sunroofs and moonroofs. That way, you'll know what you're paying for.
Do Subaru Outback Have Sunroofs?
If you're shopping around for a used or new Subaru Outback, you should know that none of them come with a sunroof. However many of them include a moonroof, but they only come standard in specific trims. You may have the option to install a moonroof (not a sunroof) on other Outback trims, but not all of them.
Which Subaru Outback Trims Come with a Moonroof?
There are nine trims available for the 2023 iteration of the Subaru Outback, many of which do not come standard with a moonroof. The following table will show which trims do not have a moonroof, which trims have an optional moonroof, and which ones come with a standard moonroof. The information in the table was taken directly from the official Subaru Outback website.
| | |
| --- | --- |
| 2023 Subaru Outback Trim | Moonroof |
| Base | Not available |
| Premium | Optional |
| Onyx Edition | Optional |
| Limited | Optional |
| Touring | Standard |
| Onyx Edition XT | Standard |
| Wilderness | Optional |
| Limited XT | Standard |
| Touring XT | Standard |
As you can see, the cheapest version of the 2023 Subaru Outback (the Base) is the only trim that does not give customers the optional to ride around with a moonroof. In every other version, you have the optional to pay to get one installed, or the Outback comes with one already.
Pros and Cons of a Sunroof and Moonroof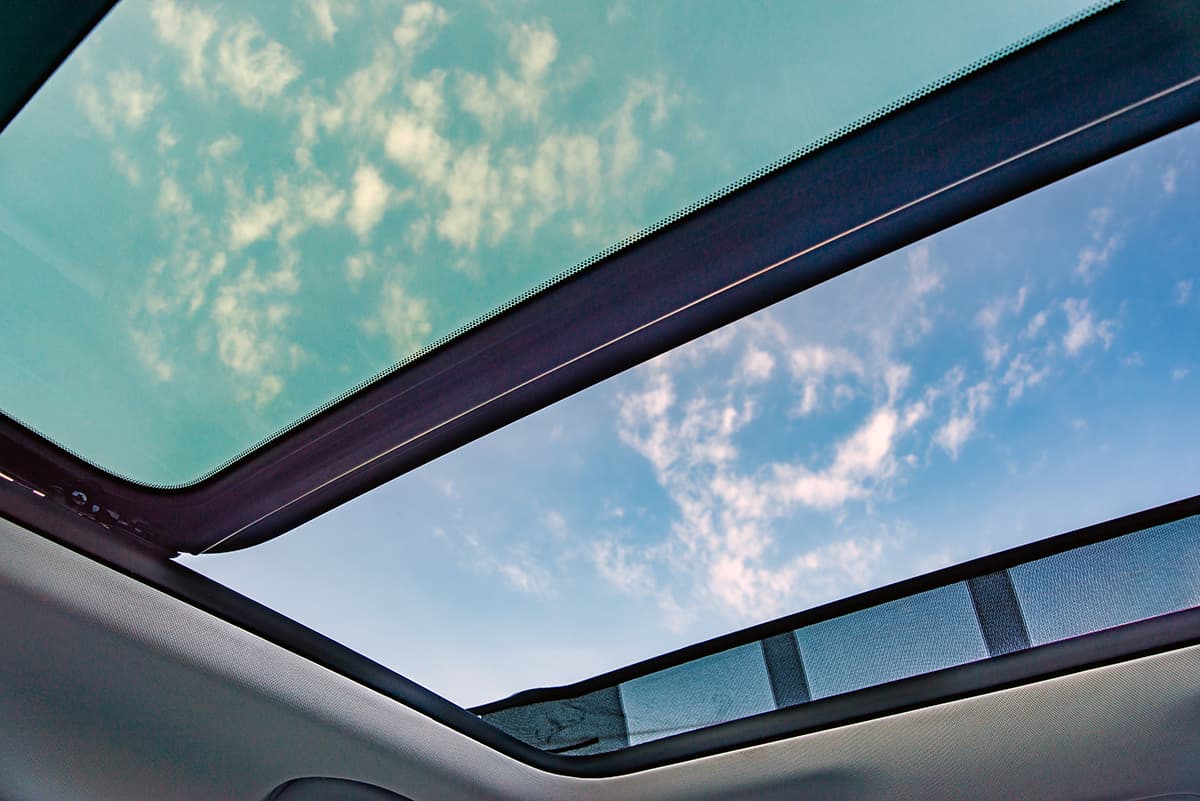 These types of car roofs are not a must-haves—they're nice-to-haves. So, let's see the advantages and disadvantages of owning a car with a sunroof or moonroof.
Pros
Style points. There's no denying that a sunroof or moonroof makes your car look cool. What you may have already subconsciously guessed is that these roofs can also add value to your car since, after all, you have to pay more to get it.
Not as much noise as opening side windows. There's no problem with cracking open a side window to introduce more fresh air into your cabin. The only problem with this is that you allow your cabin to become polluted with all sorts of traffic noise. A sunroof or moonroof solves this problem since most of the noise from other motorists is coming from the side, not above.
Bright, natural light. While I touched on this subject earlier, I cannot exaggerate the importance of natural sunlight. Instead of turning on the lights to see where you dropped your phone, the sun will provide you with all the illumination you need. Of course, with tinted moonroofs, you may still need your lights, as you would during the nighttime.
Cons
Exciting at first. The first week of owning a sunroof or moonroof may be exciting, but car owners tend to forget that it's even there later on. In the end, you would've ended up paying for a feature you hardly utilize.
Negatively affects aerodynamics. While opening any window can impact aerodynamics (speed, wind resistance, etc.), an open sunroof is particularly terrible since the window is open in the direction of the entering air and wind. This doesn't just affect speed, but it can also affect—albeit marginally—your Outback's mileage.
Glass can break. In case you didn't know, you will have to manually slide or tilt the sunroof whenever you want to introduce fresh air into the cabin. This, however, can wear down the hinges and even cause the glass panel to break if you're not careful. While the possibility of this happening is quite a stretch, it's still a real risk.
Reduces headroom. You may think that a sunroof adds headspace to your car, but the opposite is true. The fact of the matter is that the sunroof's sliding panel will take up around an inch of headroom, but you can overcome that problem by leaving the sunroof open at all times.
Should I Get a Sunroof?
It all boils down to personal preference. The pros and cons provided above are just there to give you a bit of insight into what it would be like to own an Outback with a moonroof. So, think carefully about whether or not spending an extra couple hundred of dollars is worth the investment.