The Subaru Outback is an extremely rugged compact SUV. It's seen all sorts of changes throughout the ages, but it retains many of the same things that made people fall in love with it in the mid-1990s. But can you hitch a camper onto the back of this SUV?
Yes, the 2023 Subaru Outback can tow a camper. The base model has a maximum towing capacity of 2,700 pounds, while select versions, including the Limited XT, have an increased towing capacity of 3,500 pounds.
In this guide, I'll explain what sort of campers you can connect to your Subaru Outback and safety tips for towing with this vehicle.
Can a Subaru Outback Tow a Camper?
Since its launch in 1994, the Subaru Outback has become a favorite among outdoor junkies out there. It's evidence that even compact SUVs can be versatile as well as rugged. But if you're wondering whether or not a Subaru Outback can tow a camper or trailer, the good news is, yes, it can.
The 2023 Subaru Outback comes in 9 different versions—most of which have a towing capacity of 2,700 pounds. If you look at the XT versions, you'll find that their towing capacities are 800 pounds higher or 3,500 pounds.
The only problem is that many versions of the 2023 Subaru Outback do not come with a ball hitch. So, you'll need to pick one up separately, but they're relatively cheap and can last a lifetime with proper care.
What Types of Campers Can a Subaru Outback Tow?
The next natural question is, what type of camper can you connect to your Subaru Outback?
To make a long answer short, there's virtually no type of trailer you cannot hook up to your Outback, as long as the trailer and its contents are under the vehicle's maximum towing capacity (2,700 or 3,500 pounds, depending on the version).
While 2,700 pounds may sound like a lot, when you look at the average weight of a trailer is around 1,500 pounds, leaving roughly 1,200 pounds for your belongings. And anyone who's been out traveling knows just how easy it is to load a trailer with over 1,000 pounds of stuff.
As such, it's important that you take a look at the different types of trailers that are suitable for your Outback. Here, I'll describe 3 of the most common campers that you can hook up to your crossover SUV.
1. Small-sized travel trailers
If you don't mind reducing the amount of square footage in your camper, then you should consider picking up a small-sized travel trailer. These things weigh just around 1,000 pounds, and they're great for hunting excursions or out-of-state trips over the weekend.
2. Teardrop trailers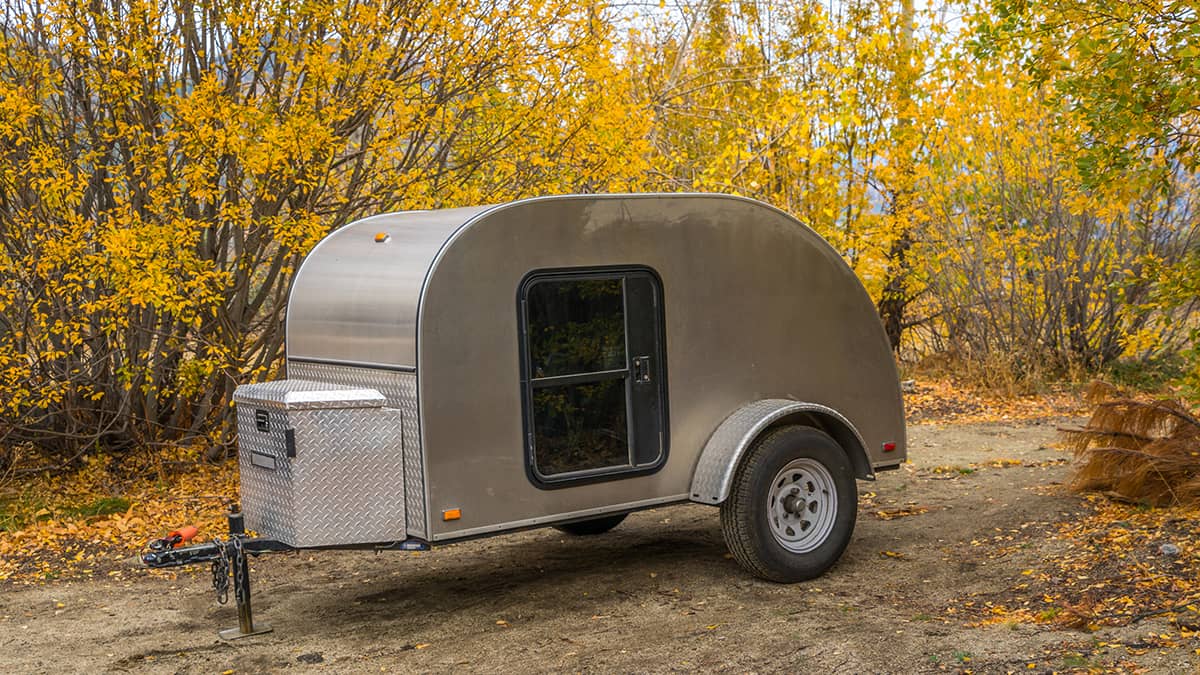 A teardrop trailer is a type of trailer that is somewhat teardrop-like in shape. It has a tall frontend that tapers to the back, so the headspace can be quite limiting the farther back you go. However, its design allows for more floor space, which is vital if you want to load it with boxes, suitcases, and hunting gear.
3. Popup campers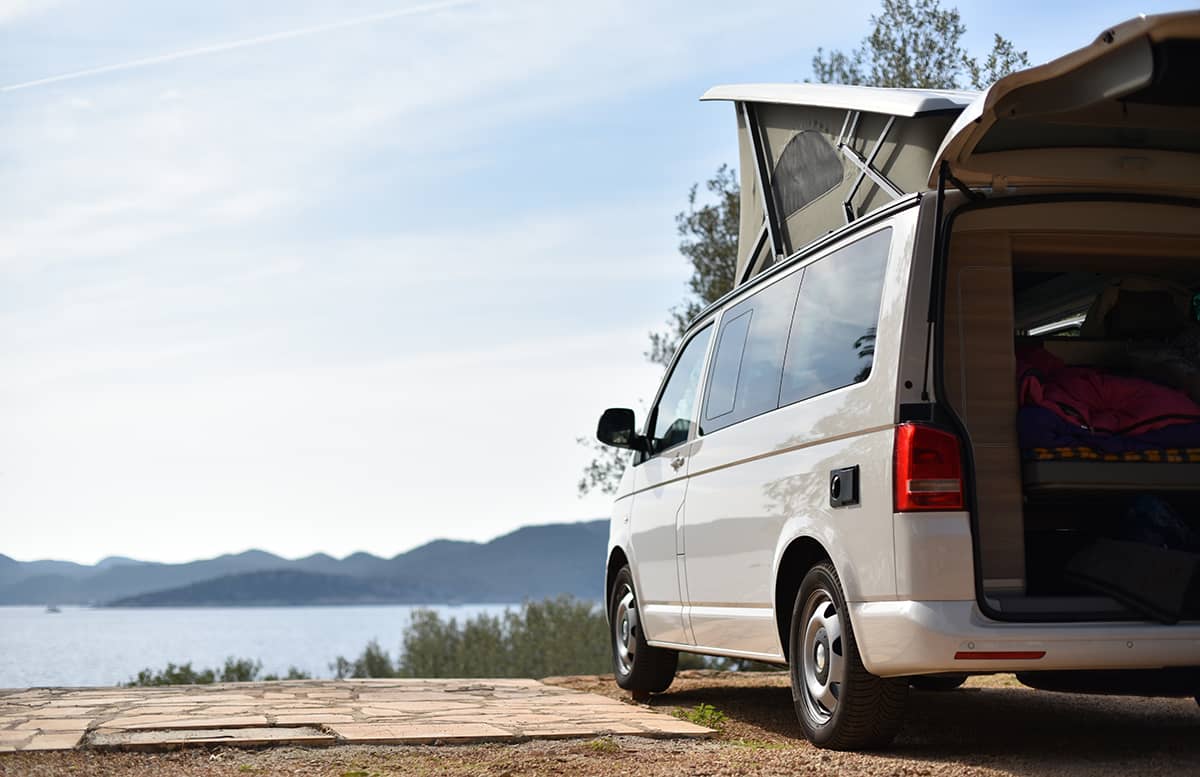 A popup camper can be folded down during travel, but when you've found the perfect place to set up camp, then you can unfold the top to expand your living quarters exponentially. There are all kinds of popup campers to choose from, including those with soft-shell tops made of vinyl, canvas, or another type of foldable, sturdy fabric.
Tips for Towing a Camper
Now that we know what types of campers are compatible with the Subaru Outback, it's time to figure out how to connect it to one. I trust that you know how to set it up, especially after purchasing the ball hitch accessory for your vehicle.
For those that aren't too familiar with towing trailers, here are a few tips I'd like to give you.
1. Know the dimensions of your trailer
You may become so preoccupied with loading your trailer that you forget to record its dimensions. It's important that you know how wide and tall your trailer is so that you don't accidentally scrape the roof on a low-hanging bridge or tree branch.
2. Follow the 60/40 rule
The 60/40 rule states that 60% of the total weight of the trailer's load should be located in the front, with the remaining 40% in the back. Proper weight distribution ensures that your trailer doesn't go careening to the side whenever you make tight turns, which can lead to your car losing balance.
3. Tie whatever you can with straps
This is related to the previous tip. The last thing you want is the load from the front of the trailer to move toward the back, and vice versa, whenever you brake and accelerate.
4. Always park the trailer on a flat surface
This will make it easier to load and unload your belongings, as well as prevent uneven pressure on the tires of your car and trailer.
5. Know the trailer's weight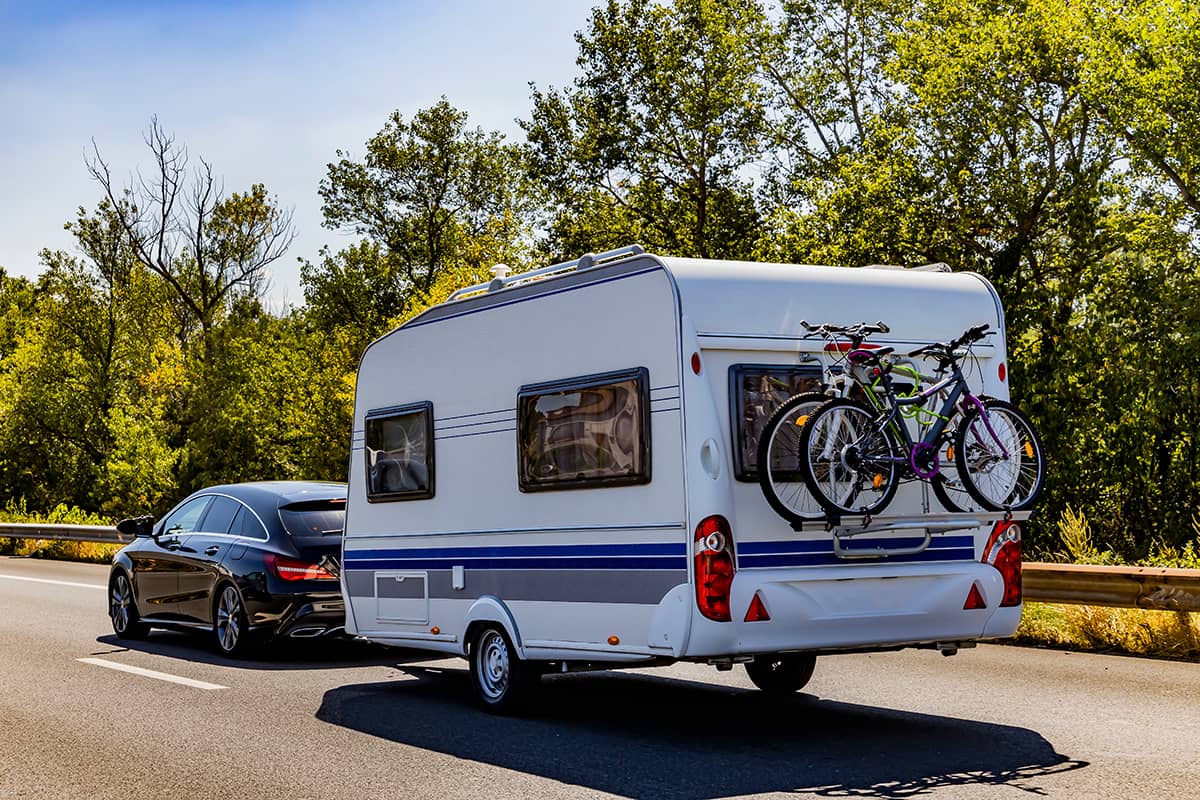 The towing capacity of your Subaru Outback, or any car for that matter, refers to the total weight of the trailer. So, make sure you keep a close on the weight of the trailer and whatever you place inside it. Even going a single pound over the limit can make it difficult to control your car and trailer while driving.
6. Use a spotter whenever you back up
Reversing a car with a trailer can be downright impossible to do if you don't have any experience. So, you should always have a spotter to help you navigate the trailer whenever you need to back up. Also, make sure your side mirrors are positioned correctly in order to see as much as possible.
7. Drive on the right lane
There are two reasons for doing this. The first is that you'll have more space to stop your car whenever you need to slam on the brakes. Another is that you'll have an easier time pulling over if you blow a tire.
8. Check your route ahead of time
The last thing you want is to take a route that doesn't allow trailers of a certain height, weight, or width. Plan ahead of time to come up with the most efficient route to your destination.
A Quick Look at the Subaru Outback's Specs
The 2023 Subaru Outback has received favorable reviews from users of Edmunds (5.0), Car and Drive (9/10), and Kelley Blue Book (4.1/5). Nearly everything about the new-and-improved Outback has been praised, from its engine performance to its infotainment center. If you'd like to learn more about the spaciousness of the new Subaru Outback with a specific focus on its trunk space, I recommend giving this guide a read.
Now, let's take a quick look at the 2023 Subaru Outback's most relevant specs. All of the information provided below can also be found on the official Subaru website.
Please note that the Subaru Outback is available in 9 versions, but the following table will describe the base model.
| | |
| --- | --- |
| Parameters | Values |
| Starting price | $28,395 |
| Highway mileage | 32 MPG |
| City mileage | 26 MPG |
| Engine | 2.5L 4-cylinder Subaru Boxer |
| Power | 182 HP @ 5,800 RPM |
| Torque | 176 lbs.-ft. @ 4,400 RPM |
| Fuel tank capacity | 18.5 gallons |
| Length | 191.9 in. |
| Width | 74.2 in. |
| Height | 66.1 in. |
| Wheelbase | 108.1 in. |
| Ground clearance | 8.7 in. |
| Front/Rear headroom | 40.1 / 39.1 in. |
| Front/Rear legroom | 42.8 / 38.5 in. |
| Front/Rear shoulder room | 58.1 / 57.4 in. |
| Passenger volume | 109 cu. ft. |
| Cargo (behind rear, behind first row) | 32.6 / 75.6 cu. ft. |