A box truck is a type of truck that is used to haul large items from place to place. You can rent a box truck for moving homes, or you might rent a league of box trucks for shipping products between distribution centers. But what box truck sizes are there?
Box trucks generally range from 10 to 26 feet, which is in reference to the length of the trailer. The overall dimensions of a standard 20-foot box truck's trailer are around 20 feet long, 8 feet wide, and 8 feet high. The inside will usually measure 21 × 7-1/2 × 7-1/2 feet.
In this guide, I'll explain the different dimensions of box truck sizes, and I'll also cover how to choose a box truck based on your specific needs.
What Is a Box Truck?
A box truck is a type of shipping truck with a trailer on the chassis. Box trucks are usually rented by private citizens for moving homes. All of U-Haul's rental trucks are classified as box trucks.
Box trucks fall into a shipping service category known as less-than-truckload or less-than-load (LTL). Basically, box trucks are used for transporting relatively large items, such as furniture and home appliances, usually between residences. However, larger box trucks can be used for shipping numerous items between distribution centers.
They usually come with large doors on the rear end of the box trailer, and larger versions might come with doors on the side. It's important to pay attention to the cargo weight capacity of a box truck if you want to rent one for moving homes or other purposes.
Standard Dimensions of a Box Truck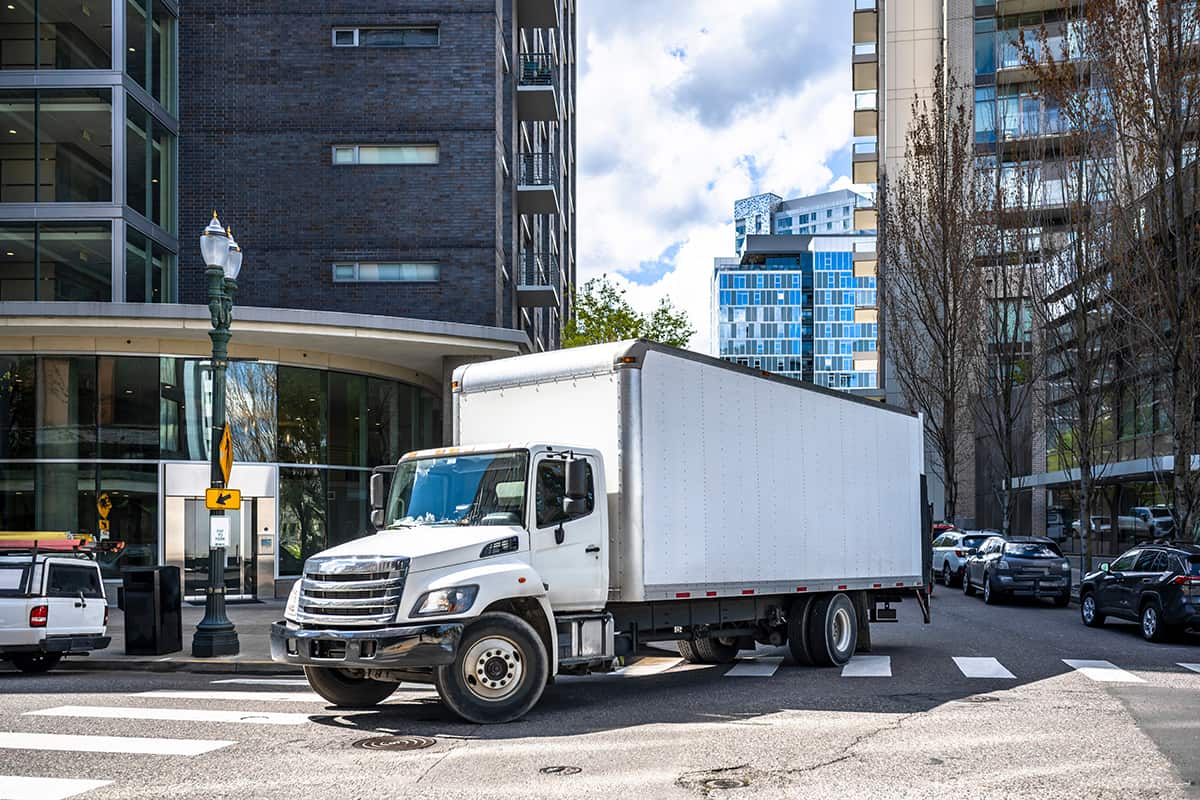 The dimensions of a box truck typically refer to the trailer chassis. A standard box truck will measure 24-1/2 feet in length and around 8 feet wide and high, with slight variances between models. The truck portion of a box truck will usually measure around 10 feet long.
If you open the trailer, a 24-foot box truck's trailer will usually measure 23 feet 10 inches long and around 7-1/2 feet wide and tall, giving it a total cargo volume of around 1,340 cubic feet. At most, it can carry up to 10,000 pounds of cargo per trip.
Common Box Truck Sizes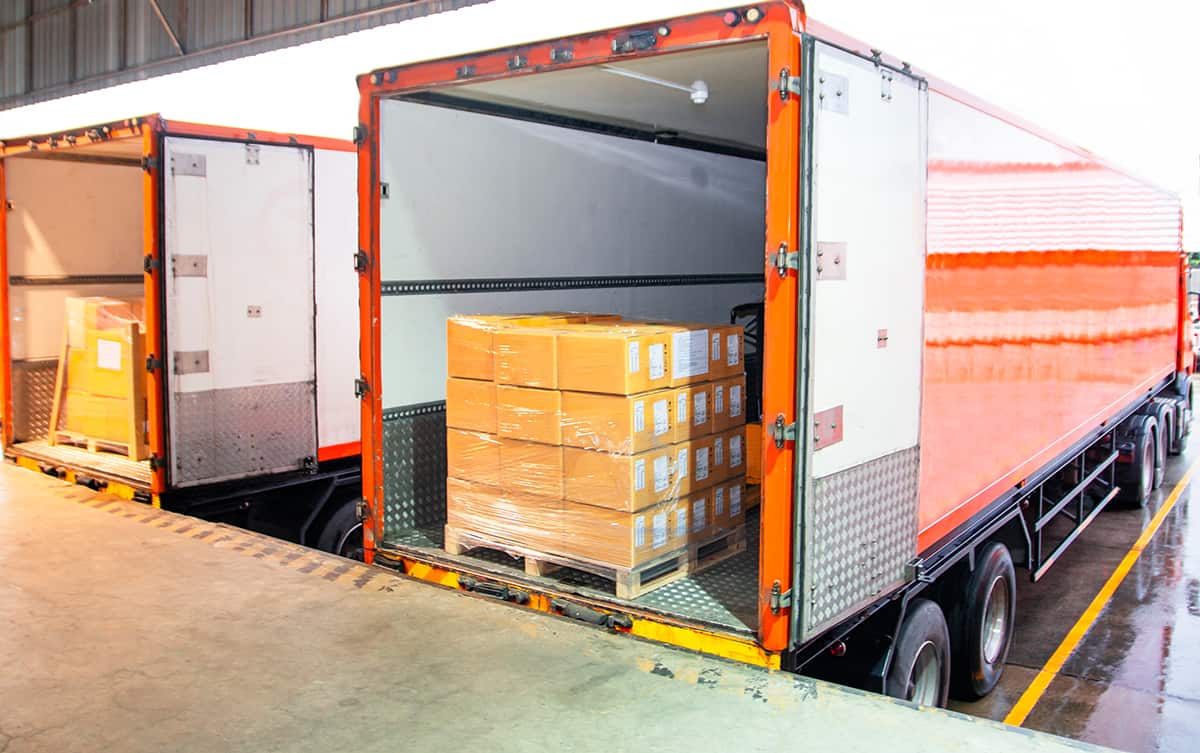 Box trucks come in a variety of sizes, usually ranging from 10 to 26 feet, depending on the rental company.
Below, I'll describe in table format the size classes and variances of box trucks from U-Haul, Penske, and Hengehold.
Brand and Size
Exterior Dimensions (L × W × H)
Interior Dimensions (L × W × H)
Volume
Max Load Capacity
U-Haul 10 feet
10 × 6.9 × 6.8 ft.
9.9 × 6.3 × 6.1 ft.
402 cu. ft.
2,850 lbs.
Penske 12 feet
N/A
11.5 × 6 × 6.1 ft.
450 cu. ft.
3,100 lbs.
Hengehold 12 feet
12.5 × 8 × 7 ft.
11.5 × 7.5 × 7.2 ft.
570 cu. ft.
3,000 lbs.
U-Haul 15 feet
15 × 7.3 × 7.1 ft.

2.5 × 7.8 × 2.6 ft*

14.8 × 7.8 × 7.1 ft.
764 cu. ft.
6,385 lbs.
Hengehold 15 feet
15 × 8 × 7.6 ft.
14.9 × 7.5 × 7.2 ft.
784 cu. ft.
4,000 lbs.
Penske 16 feet
N/A
16 × 7.6 × 6.5 ft.
800 cu. ft.
4,300 lbs.
U-Haul 17 feet
17 × 8 × 7.5 ft.

2.5 × 7.8 × 2.6 ft.*

16.9 × 7.8 × 7.2 ft.
865 cu. ft.
6,190 lbs.
U-Haul 20 feet
20 × 8 × 7.5 ft.

2.6 × 7.8 × 2.6 ft.*

19.5 × 7.8 × 7.1 ft.
1,016 cu. ft.
5,700 lbs.
Hengehold 20 feet
20 × 8 × 8.5 ft
19.8 × 7.5 × 8 ft.
1,200 cu. ft.
10,000 lbs.
Penske 22 feet
N/A
21.9 × 8.1 × 8.1 ft.
1,200 cu. ft.
10,000 lbs.
Hengehold 24 feet
24 × 8 × 8.5 ft.
23.8 × 7.4 × 8.1 ft.
1,432 cu. ft.
10,000 lbs.
U-Haul 26 feet
26.5 × 8.5 × 8.5 ft.

2.8 × 8.1 × 3.3 ft.*

26.1 × 8.1 × 8.3 ft.
1,682 cu. ft.
12,859 lbs.
Penske 26 feet
N/A
25.9 × 8.1 × 8.1 ft.
1,700 cu. ft.
10,000 lbs.
*Mom's attic—the portion of the box trailer that hangs over the truck's cab
How to Choose a Box Truck for Rent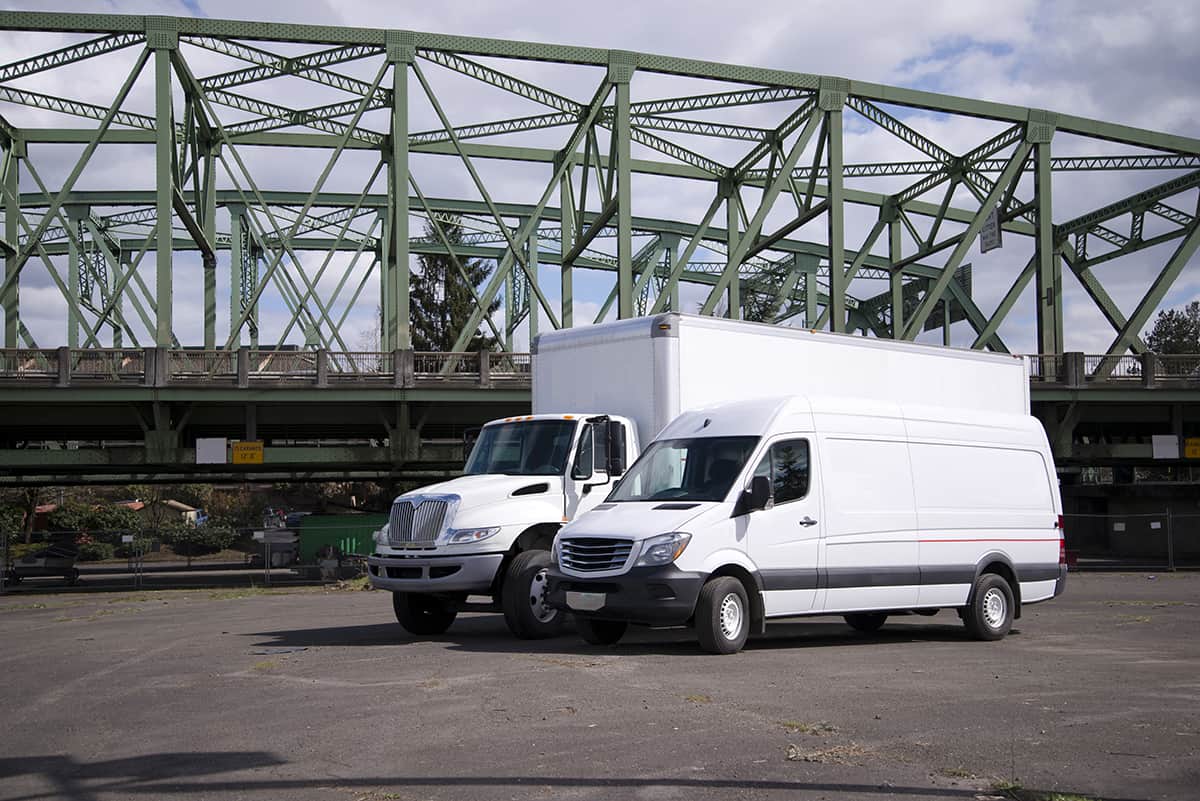 You should consider the following factors if you're going to rent a box truck for moving homes:
Box Truck Size
Bigger is almost always better, but you should know that larger box trucks cost more to rent per day. Not to mention larger box trucks may also have slightly worse mileage than smaller variants. But in the end, you should determine how big of a box truck to rent based on how much stuff you want to take with you.
The table above indicates that larger trucks are more suitable for transporting larger cargo per trip. Not only that, but you can also pack the furnishings of multiple rooms inside a single large-size box truck. This should be your first consideration before looking at everything else.
Weight Capacity
In some people's cases, they might only want to transport a few items to their new homes. However, those few items can be incredibly heavy, such as gym equipment or grand pianos. In this case, you should try and find out how much those items weigh and choose a box truck that can accommodate their collective weight.
Again, larger trucks can haul heavier items. While you might not make use of all 1,000-plus cubic feet inside the box truck, a 10,000-plus weight-capacity truck may be your only option for hauling large items in a single trip.
Towing Capacity
The great thing about U-Haul, Penske, and Hengehold is that you can attach trailers to the backs of their box trucks. That means you can transport more stuff per trip, assuming you keep the towing weight within the predetermined limits of the vehicle. You might also want to take a look at U-Haul's selection of rentable trailers.