Panoramic sunroofs have been a feature of luxury automobiles for years, but recently they've found their way into the truck segment. Essentially a large, transparent roof that extends across the vehicle's top, a panoramic sunroof can transform the driving experience, flooding the cabin with natural light and offering an immersive view of the sky.
Popular trucks that can feature panoramic sunroofs are as follows:
Audi SQ7
Chevrolet Colorado ZR2
Chevrolet Silverado 1500
Dodge Ram 1500
Ford F-150
Ford F-250
Nissan Frontier Pro-4X
Toyota Tacoma
Toyota Tundra
In this guide, we'll take a closer look at trucks with panoramic sunroofs. We'll also explore the ups and downs of owning panoramic sunroofs, so make sure you stick around to the very end!
All About Panoramic Sunroofs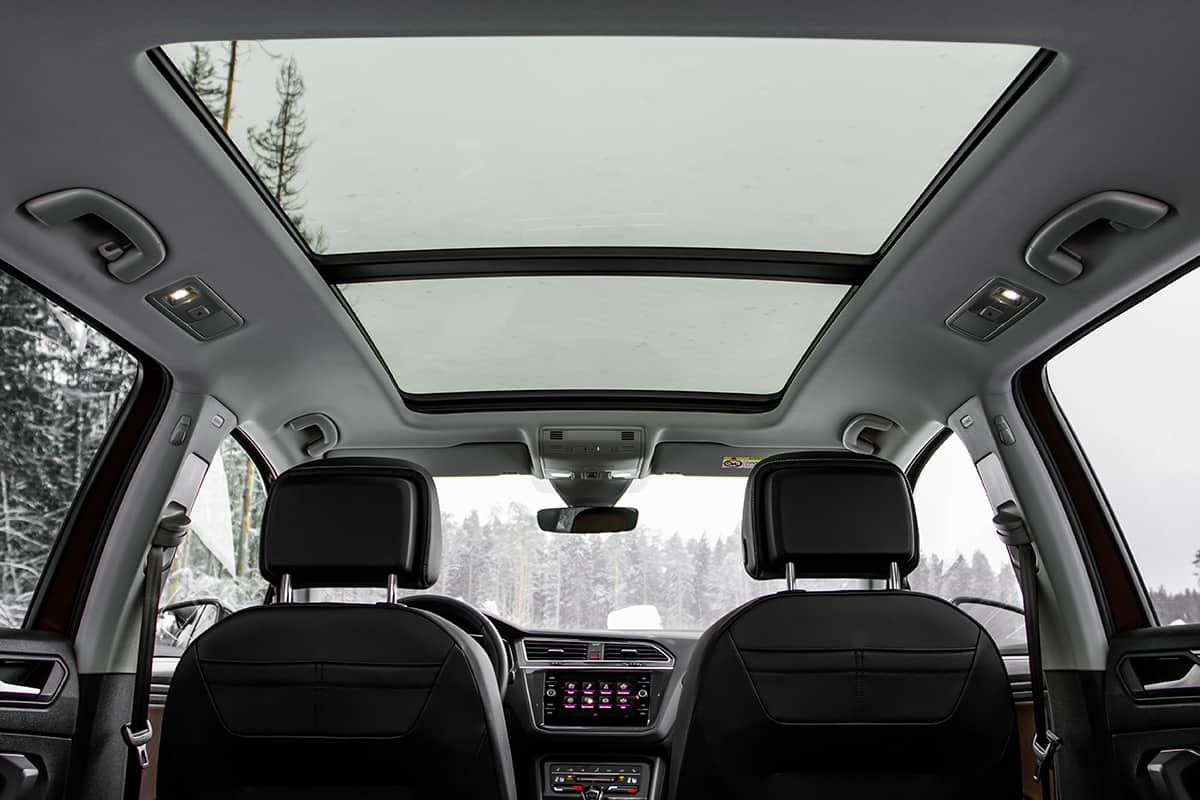 A panoramic sunroof is more than just a window to the world above you; it's a transformative feature that can redefine your driving experience. But what exactly is a panoramic sunroof, and how does it function?
A panoramic sunroof is a large, see-through panel or panels that span a significant portion, if not all, of a vehicle's roof. It's a step up from the traditional sunroof, which usually only covers the front seats. Panoramic sunroofs can extend over the rear seats, offering all passengers a clear view of the sky above.
These sunroofs work on a pretty simple principle. Central to this feature is a series of mechanical components that come together to open and close the sunroof. These include electric motors, gears, rails, and sometimes a set of cables.
When you press the open button, the electric motor springs to life, turning the gears. These gears then move along the rails, guided by cables, to slide the sunroof open. Closing the sunroof works in reverse, with the gears moving in the opposite direction to pull the sunroof closed.
Top Trucks with Panoramic Sunroofs
Now, let's discuss what you're really here about—the trucks with panoramic sunroofs. To our surprise, there are quite a lot of them, so buckle up!
Audi SQ7
The 2023 Audi SQ7, a high-end pickup truck, presents a remarkable panoramic sunroof as a standard feature, ensuring an impressive view for all occupants.
It stands out with advanced tech features, an upscale interior, and a range of powerful engines including a supercharged V6, turbocharged four-cylinder, and a plug-in hybrid variant. With a towing capacity of up to 7,700 pounds and seating for seven, it is available in a range of attractive colors.
Chevrolet Colorado ZR2
The Chevrolet Colorado ZR2, adorned with a standard panoramic sunroof, boasts an exclusive interior with unique materials and emblem. It includes a state-of-the-art 11.3-inch touchscreen infotainment display, Off-road Performance Screen, and a revamped center console. The truck is equipped with a dual-zone temperature control system, rear AC vents, and heated front seats.
Chevrolet Silverado 1500 ZR2 and High Country
The Chevrolet Silverado 1500 offers an array of models from the practical WT to the lavish High Country, ensuring a fit for every driver. Its premium trims, the ZR2 and High Country, distinguish themselves with their respective features, including standard panoramic sunroofs.
Dodge Ram 1500
The 2023 Dodge Ram 1500 stands out as a formidable contender in the full-size pickup market. Its driving comfort is commendable, thanks to a range of powerful engine choices, such as the 305-hp 3.6-liter V-6 and the robust 395-hp 5.7-liter V-8. Moreover, the truck boasts an enticing optional feature—a 10-square-foot dual-pane panoramic sunroof, which offers a refreshing open-sky experience and unparalleled views from within the cabin.
Ford F-150 Platinum and Limited
The Ford F-150 continues to lead with its advancements, including an aluminum body, turbocharged powertrains, hybrid variant, and state-of-the-art Ford tech. The basic XL model serves work needs efficiently, while the upscale Platinum and Limited trims offer Lincoln-level luxury, with the latter featuring massaging front seats, a panoramic sunroof, and 22-inch wheels.
Ford F-250
The 2023 Ford F-250 is a powerhouse heavy-duty pickup known for its robustness It comes standard with a V-8 engine, with the base XL trim featuring a 400-hp 6.8-liter V-8. The top-end variant sports a 500-hp 6.7-liter V-8 High-Output Power Stroke Diesel, boasting up to 1050 pound-feet of torque. An optional panoramic sunroof is available for added luxury.
Nissan Frontier Pro-4X
The Nissan Frontier Pro-4X is the perfect blend of capability and coolness. With its analog main gauges, easy-to-use screen and buttons, and a service-friendly engine bay, it offers a user-friendly escape from the high-tech frenzy of modern life. The Pro-4X stands out for its reassuring performance under harsh weather conditions or on tough terrains. Highlighting the truck's comfort and functionality, the trim comes standard with a panoramic sunroof, adding a fresh, open-air feel.
Toyota Tundra Platinum
The 2023 Toyota Tundra stands out in the full-size pickup category. Offering no V-8, it instead powers with a twin-turbocharged V-6, with horsepower dependent on the model. The Texas-made truck ensures comfort with a new coil-spring rear suspension and an expansive 14.0-inch infotainment screen.
The Platinum trim enhances the experience with a panoramic sunroof, ambient interior lighting, heated and ventilated rear seats, and a power-adjustable heated steering wheel. Moreover, it incorporates advanced tech like a 360-degree camera system, a trailer backup guide system, and a premium JBL stereo setup.
The Benefits of Trucks with Panoramic Sunroofs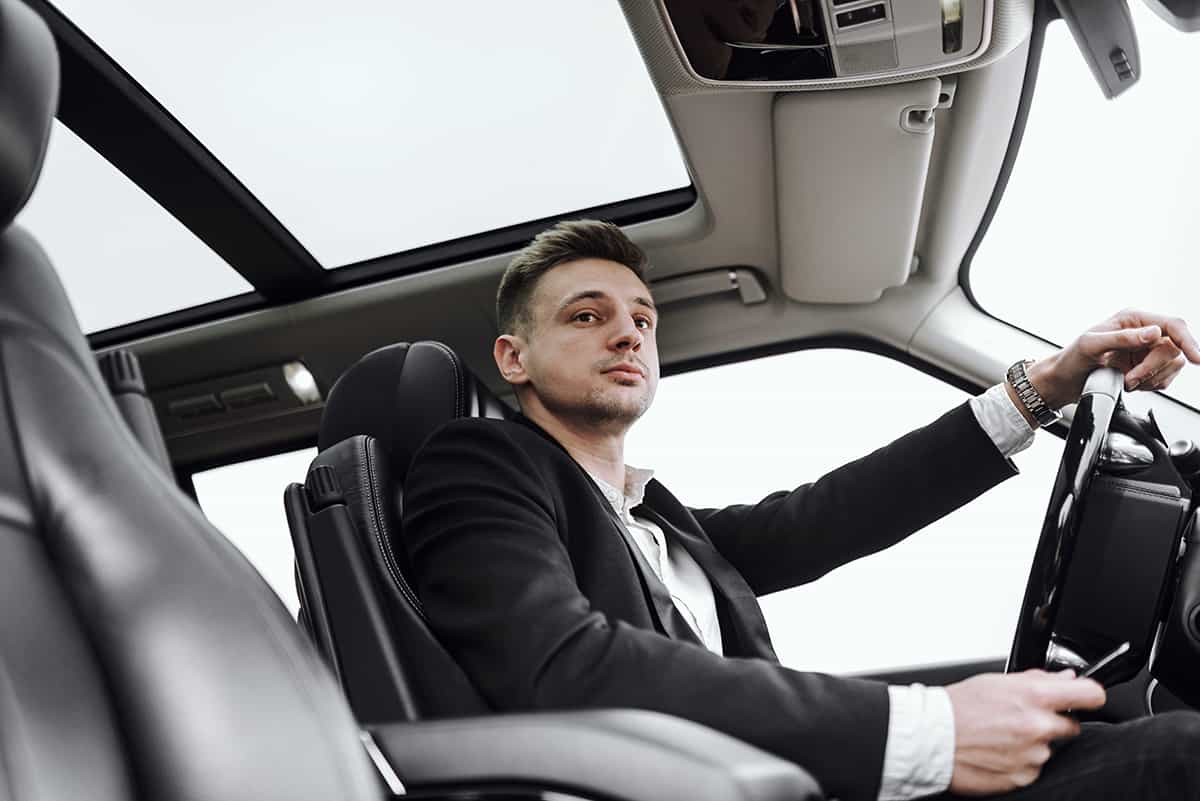 The advantages of panoramic sunroofs in trucks extend beyond the aesthetic appeal, providing functional benefits that contribute to both your comfort and your vehicle's value.
Enhanced Visual Experience
Unlike a standard sunroof that primarily benefits front-seat passengers, a panoramic sunroof extends to cover the rear seats, offering all passengers a view. This unobstructed vista makes the cabin feel more spacious and airy.
Boosted Ventilation
With a push of a button, you can allow fresh air to circulate throughout the cabin. This can be especially beneficial during warmer months or for those who prefer a bit of a breeze during their drive. The improved airflow can help maintain a comfortable cabin temperature and may even reduce air conditioner usage.
Increased Vehicle Value
While a panoramic sunroof may initially increase the cost of your truck, it can also enhance its resale value. Trucks with panoramic sunroofs are often seen as higher-end, luxurious vehicles, making them more desirable in the used car market. In addition, if your truck model typically doesn't come with a panoramic sunroof, having one can make your vehicle stand out.
Added Luxury Feel
There's no denying that a panoramic sunroof adds a touch of luxury to your truck. It's a feature typically found in premium segment vehicles. It can make your everyday drives more pleasant and turn even a mundane trip into a more enjoyable experience.
Potential Drawbacks of Panoramic Sunroofs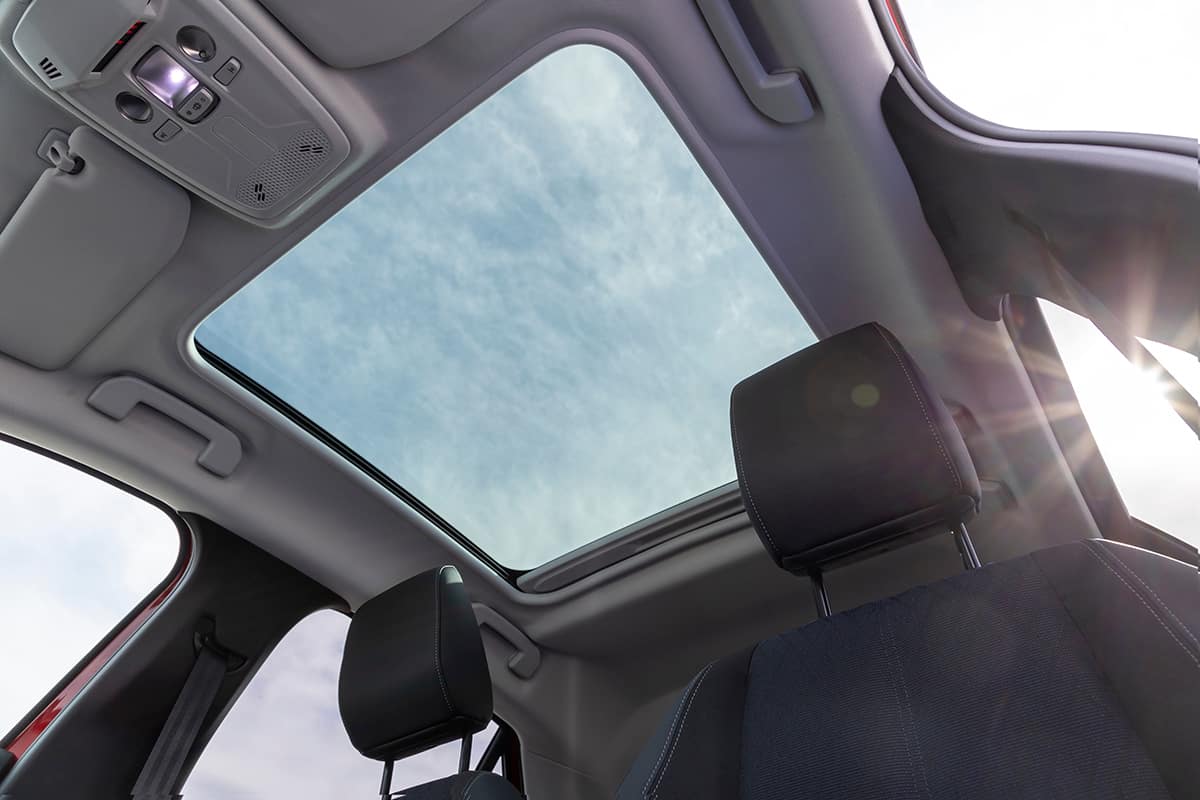 Let's now turn our focus on the flipside of owning a truck with a panoramic sunroof. It may surprise you that there are more drawbacks than you may have initially realized.
Increased Vehicle Cost
Panoramic sunroofs are often part of a higher trim level or an optional package, which can significantly increase the initial cost of the vehicle.
Higher Maintenance and Repair Costs
Issues can arise with the electric motor, gears, cables, or the sunroof glass itself. Repairing these components can be pricey, especially if your truck is out of warranty.
Potential for Leaks and Noise
A panoramic sunroof can potentially allow water to seep in if the seals degrade over time or if there's a flaw in the design. This can lead to water damage inside your vehicle. Also, some drivers might notice wind noise when the sunroof is closed, which can increase with vehicle age and can contribute to higher noise levels inside the cabin.
Limited Off-Roading Capability
If you plan to use your truck for serious off-roading, a panoramic sunroof might not be the best choice. The extra glass could potentially be a weak point when driving in harsh terrains. Moreover, the sunroof could limit the vehicle's roof rack capabilities.
FAQs
1. Are panoramic sunroofs safe?
Generally, yes. They are built from tempered or laminated glass, which is designed to shatter into small, blunt pieces rather than large, sharp shards in the event of an accident. Many vehicles with these sunroofs are equipped with rollover bars or sensors that trigger airbags to provide additional safety.
2. How much does a panoramic sunroof cost on average?
The cost of a panoramic sunroof can vary widely based on the make and model of the vehicle, but generally, they add between $1,000 and $2,000 to the purchase price when they are part of an optional package. This price usually includes other features as well.
3. Can a panoramic sunroof be installed after purchase?
It is technically possible to install a panoramic sunroof after you've purchased a vehicle, but it is not generally recommended. Installing a panoramic sunroof requires cutting into the vehicle's roof, which can compromise its structural integrity and potentially void any warranty you may have. It also requires precise measurements and installation to ensure the sunroof doesn't leak, which can be difficult to guarantee.