The Hyundai Santa Fe has been a staple on the road since its debut. This mid-size SUV from the South Korean automaker Hyundai has seen numerous transformations over the years, witnessing peaks of success and valleys of disappointment.
The best and worst years for the Hyundai Santa Fe are as follows:
Best: 2004, 2006, 2011, 2015, 2020, 2022
Worst: 2003, 2007, 2009, 2013, 2014
In this article, we will take a closer look at the Hyundai Santa Fe's history before scrutinizing its best and worst years.
Hyundai Santa Fe Milestone Years
Since its inception, the Hyundai Santa Fe has experienced noteworthy highs and lows. Let's take a journey to the past and learn about this iconic car models' history.
2001—Launch Year
The Hyundai Santa Fe kicked off in 2001, carving a place for Hyundai in the midsize SUV market. With its practical design and competitive pricing, it appealed to families seeking affordable and reliable transportation. Powered by a 2.4-liter four-cylinder engine or a stronger 2.7-liter V6, the first Santa Fe prioritized utility over luxury, which set the foundation for its future iterations.
2007—Makeover
In 2007, Santa Fe underwent its first significant redesign. The new generation showcased sleeker aesthetics, better-quality materials, and a more powerful 3.3-liter V6 engine, demonstrating Hyundai's commitment to innovation. However, this year was marred by several mechanical issues.
2013—Peak Year
Fast-forward to 2013, the Hyundai Santa Fe shone brightly. This year's model distinguished itself with an attractive design, a comfortable ride, and an upgraded 3.3-liter V6 engine. It also introduced the Santa Fe Sport, a smaller, two-row variant. The upscale cabin, robust technology package, and improved fuel economy made it a hit among consumers, solidifying Hyundai's presence in the SUV segment.
2019—Recent Innovations
The year 2019 marked another pivotal point for Hyundai Santa Fe. The fully redesigned model boasted advanced safety features, a high-quality interior, and an efficient powertrain with a 2.4-liter four-cylinder engine or a turbocharged 2.0-liter four-cylinder engine. Despite a competitive SUV market, the Santa Fe illustrated Hyundai's commitment to evolution and customer satisfaction.
The Best Years for the Hyundai Santa Fe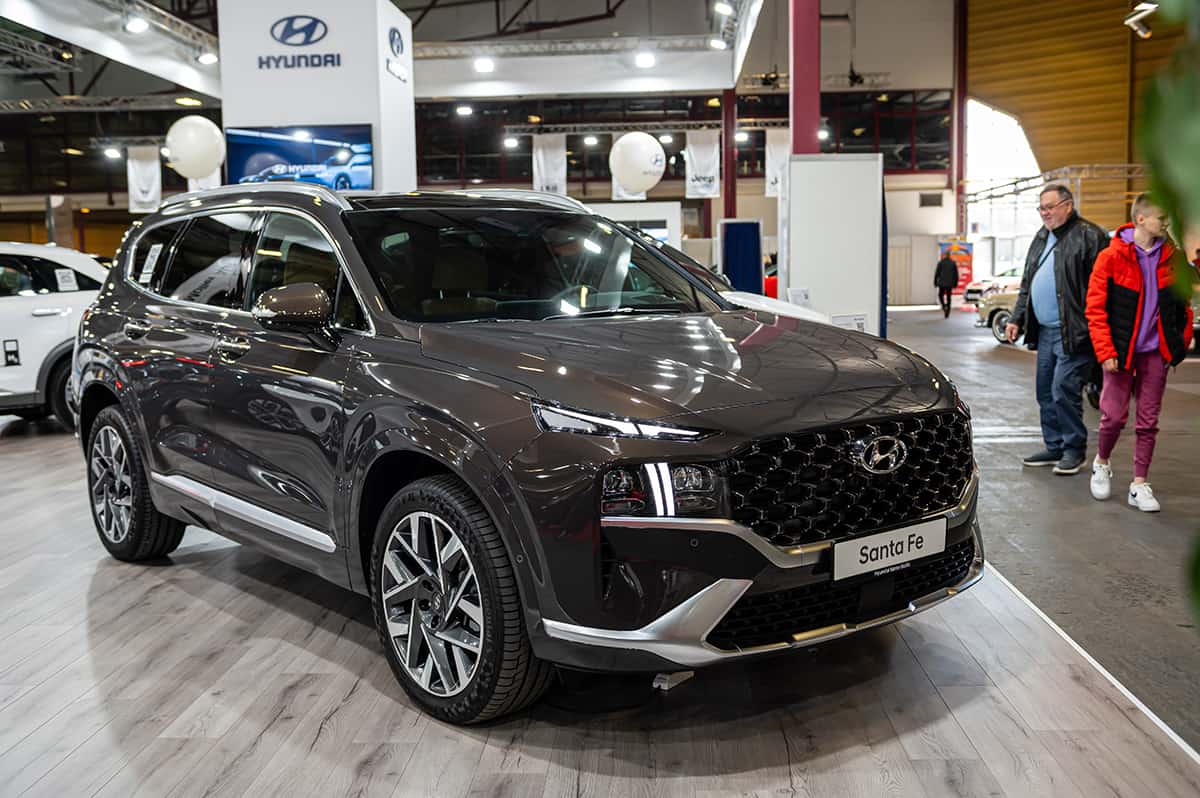 Over the years, some model years of the Hyundai Santa Fe stand out as exceptional, owing to their significant improvements and reliability.
2004
The 2004 Santa Fe saw the introduction of a robust 3.5-liter V6 engine offering improved power and performance. Customers appreciated its smooth ride quality, spacious interior, and the addition of a convenient 4-speed automatic transmission.
2006
In 2006, Hyundai refined the Santa Fe's aesthetics and functionality. The model came with a freshened front and rear styling, making it more appealing to a broader audience. Additionally, a tire-pressure monitoring system was introduced as a standard feature, enhancing the vehicle's safety profile.
2011
The 2011 model was a highlight year due to its sleeker exterior, a luxurious interior with higher-quality materials, and enhanced standard features, including Bluetooth connectivity and a USB port. Hyundai also introduced a new fuel-efficient 2.4-liter four-cylinder engine, marking a significant step in the evolution of the Santa Fe.
2015
The 2015 Santa Fe Sport came with a standard 2.4-liter four-cylinder engine, while a more powerful turbocharged 2.0-liter four-cylinder engine was optional. The three-row Santa Fe model featured a robust 3.3-liter V6 engine. It was lauded for its comfortable ride, upscale interior, and impressive list of standard features, including a rearview camera and Hyundai's Blue Link telematics system.
2020
The 2020 model presented a plethora of advanced features. An array of safety features became standard, including adaptive cruise control, lane-keeping assist, and a driver drowsiness monitor. Hyundai also introduced a new, efficient 2.5-liter four-cylinder engine. The model received high marks for its ample cargo space, easy-to-use infotainment system, and comfortable seating.
2022
The 2022 Hyundai Santa Fe features even more improvements. An optional hybrid powertrain for improved fuel efficiency, a high-quality cabin with the latest tech features, and an even more refined design continue Hyundai's commitment to constant innovation and customer satisfaction.
The Worst Years for the Hyundai Santa Fe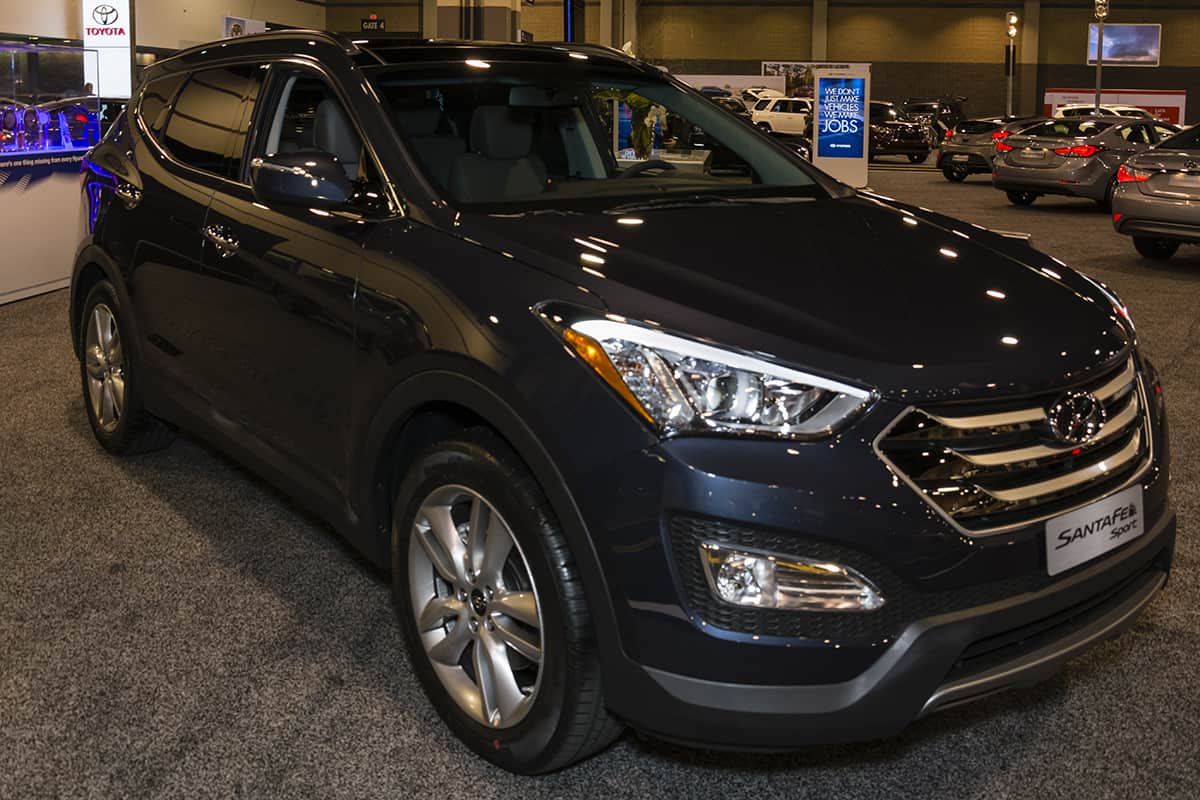 Not every year can be a winner, and the Hyundai Santa Fe is no exception. Despite its generally positive trajectory, there were a few years where the Santa Fe fell short of expectations.
2003
The 2003 Hyundai Santa Fe had its share of challenges. Consumers reported various issues, the most notable being a persistent problem with the crankshaft position sensor. This led to unexpected stalling, impacting the overall reliability of the vehicle. The model was also criticized for its lackluster fuel efficiency.
2007
2007 marked a significant redesign for the Santa Fe, but it also introduced several mechanical issues. The model was plagued by problems with the fuel gauge sensor and brake calipers. Despite its appealing aesthetic upgrades and increased power, the issues tarnished the model's reputation and led to several recalls.
2009
The 2009 model was a disappointing year due to prevalent engine issues. Complaints about engine failure were alarmingly high for this model year. Despite Hyundai's attempts to rectify these issues through recalls and repairs, consumer confidence took a hit.
2013
While 2013 was a significant year for Hyundai with the introduction of the Santa Fe Sport, it was also a year of setbacks. Several owners reported problems with the vehicle's engine, with some citing instances of engine seizure. This issue, coupled with some minor complaints about the interior build quality, made 2013 a tough year for the Santa Fe.
2014
The 2014 model continued to face similar engine-related issues as the previous year. The engine problems led to decreased performance and reliability. Furthermore, some customers reported issues with the suspension system, impacting the vehicle's ride comfort and handling.
Is Buying a Used Santa Fe Worth It?
Assessing the value of a used Hyundai Santa Fe requires a nuanced look at aspects such as the model year, overall condition, mileage, and maintenance history.
Reliability and Maintenance
Hyundai Santa Fe is generally considered a reliable vehicle. Models from the best years, like 2004, 2006, 2011, 2015, 2020, and 2022, consistently demonstrate durability and have lower-than-average maintenance costs. On the flip side, certain years such as 2003, 2007, 2009, 2013, and 2014 have had notable issues which can be a red flag for potential buyers.
Model Year and Mileage
The model year and mileage directly influence a used Santa Fe's worth. Lower mileage vehicles from the best years will fetch a higher price due to their expected longevity and performance. A higher mileage in Santa Fe, especially from less reliable years, may come with a smaller price tag but potential high-cost repairs down the line.
Cost of Ownership
The cost of ownership involves more than just the purchase price. It includes insurance, fuel costs, maintenance, and repair expenses over the lifespan of the vehicle. The Hyundai Santa Fe, particularly the newer models, boasts impressive fuel efficiency, especially in hybrid versions, and reasonable insurance costs.
Certified Pre-Owned (CPO) Program
Hyundai's Certified Pre-Owned (CPO) program is another factor to consider. It provides a factory-backed warranty on used Santa Fes that meet certain age and mileage criteria, adding an extra layer of protection for buyers. If the used Santa Fe qualifies for the CPO program, it may be a worthy investment.
What's New for the 2024 Hyundai Santa Fe?
Hyundai is making heads turn with the reveal of its 2024 Santa Fe mid-size SUV. The model boasts a radical new design, switching from its traditional curvy aesthetics to a boxy profile reminiscent of old-school SUVs, yet futuristic with its cutting-edge lighting. Prioritizing cargo capacity, the model features a longer wheelbase and an almost vertical tailgate. The distinctive LED accents, chunky trim around the wheel arches, and prominent roof rack further emphasize its off-road-oriented aesthetic.
The 2024 Santa Fe also brings significant interior upgrades. Breaking away from its two-row configuration, the model will offer an optional third row, enhancing its versatility. The luxury quotient is upped with features like Nappa leather, dual 12.3-inch screens, and two wireless charging pads in the center console. It's clear that Hyundai aims to offer a more upscale experience with this model.
Performance-wise, the 2024 Santa Fe is set to carry a turbocharged 2.5-liter inline-four engine, producing 277 horsepower and 311 pound-feet of torque, paired with Hyundai's all-wheel-drive system. The likelihood of a hybrid variant's return also adds to the model's appeal. Additionally, the rugged-looking XRT trim level is expected to continue, potentially with enhanced off-road upgrades.
FAQs
1. Are the recent models of Hyundai Santa Fe reliable?
Yes, recent models of the Hyundai Santa Fe are generally considered reliable. The automaker has strongly emphasized quality control, safety, and technological advancements. For example, the 2021 and 2022 models boast extensive safety features, such as adaptive cruise control and forward collision warning. The introduction of more efficient powertrains and hybrid options has also improved their performance and sustainability.
2. What were the main issues with the 2012 Hyundai Santa Fe?
One common problem involved the engine. Some owners reported that the engine would stall or shut off while driving, potentially posing a serious safety risk. Another issue was related to the fuel system. Some consumers experienced problems with the fuel gauge not displaying the correct fuel level, which could lead to unexpected breakdowns.
3. How has Hyundai addressed the problems from the worst years?
Hyundai has taken several steps to address the problems encountered in the worst years of the Hyundai Santa Fe. For example, in response to engine issues reported in earlier models, Hyundai initiated a series of recalls to rectify the problems and implemented stricter quality control measures. They enhanced the durability of the engine components and introduced better-performing powertrains.