The Mercedes-Benz Sprinter is arguably the best large-sized van on the market today. It has awesome handling, tons of cargo space, wide visibility, and an assortment of customizable options for everyone. But how big is this van?
The base version of the Mercedes Sprinter—the 1500 Cargo Van—is 96.3 inches tall, 233.5 inches long, and 92.3 inches wide. The biggest Sprinter is the 2500 Extended, which is 107.3 inches tall, 290.0 inches long, and 92.3 inches wide.
In this guide, I'll go into more detail about the size differences between the different Mercedes Sprinter Van models, how roomy they are, and what sets the Sprinter apart from other cargo vans.
Mercedes Sprinter Van Types
The first thing you should know about the Mercedes Sprinter is that it comes in 4 styles, with each style having different versions with pretty significant differences. They are as follows:
Sprinter Cargo
1500
2500 Single
2500 Extended
3500
3500XD
4500
Sprinter Crew
Sprinter Passenger
Sprinter Cab Chassis/Cutaway
And among these versions, there are sub-versions that come in vastly different sizes.
Mercedes Sprinter Van Size and Specs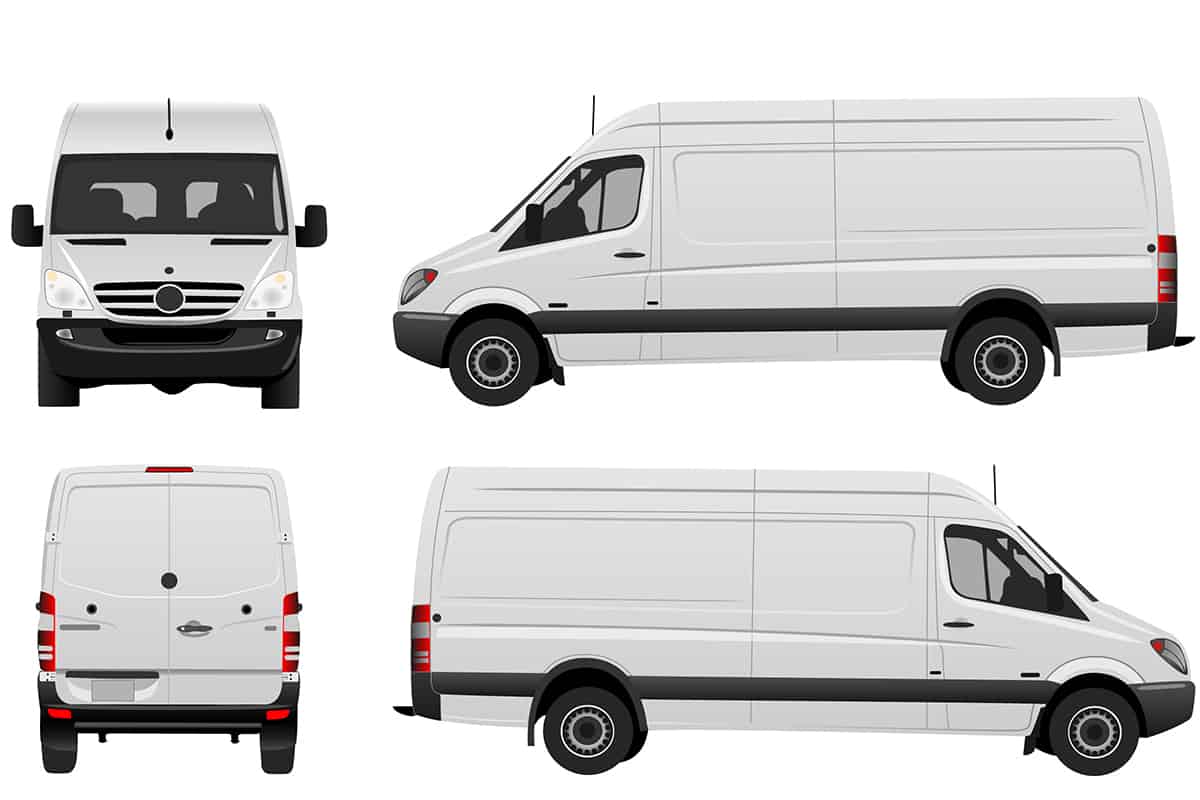 Due to the sheer number of Sprinter styles available, there's quite a lot to unpack when it comes to their sizes. Below, I'll break down the sizes and specs of all the base versions for each Sprinter type. All of the following details can be found on the official Mercedes Sprinter specs sheet found here.
Cargo
| | | |
| --- | --- | --- |
| Parameters | 1500 Standard Roof | 1500 High Roof |
| Length | 233.5 in. | 233.5 in. |
| Width w/ mirrors | 92.3 in. | 92.3 in. |
| Width w/o mirrors | 79.5 in. | 79.5 in. |
| Height | 96.3 in. | 107.5 in. |
| Wheelbase | 144 in. | 144 in. |
| Front track | 67.2 in. | 67.2 in. |
| Rear track | 68.2 in. | 68.2 in. |
| Front overhang | 40.2 in. | 40.2 in. |
| Rear overhang | 49.1 in. | 49.1 in. |
| Load height w/ load | 23.3 in. | 23.3 in. |
| Load height w/o load | 27.5 in. | 27.4 in. |
| Side-door height | 59.8 in. | 71.6 in. |
| Sliding door height | 51.0 in. | 49.6 in. |
| Rear cargo door height | 61.0 in. | 72.7 in. |
| Rear cargo door opening width | 61.2 in. | 61.2 in. |
| Ground clearance | 21.7 in. | 24.3 in. |
| Headroom | 47.3 in. | 56.4 in. |
| Shoulder room | 67.4 in. | 67.4 in. |
| Hip room | 63.7 in. | 63.7 in. |
| Legroom | 38.9 in. | 38.9 in. |
| Cargo length at floor | 132.9 in. | 132.9 in. |
| Cargo length at belt | 128.8 in. | 128.8 in. |
| Cargo width | 53.1 in. | 53.1 in. |
| Floor width | 70.4 in. | 70.4 in. |
| Max cargo height | 67.7 in. | 79.1 in. |
| Cargo capacity | 319.0 cu. ft. | 374.3 cu. ft. |
| Roof load capacity | 660 lbs. | 330 lbs. |
| Max GCWR | 13,550 lbs. | 13,550 lbs. |
| Max payload | 3,942 lbs. | 3,865 lbs. |
| Max towing capacity | 5,000 lbs. | 5,000 lbs. |
| GVWR | 8,550 lbs. | 8,550 lbs. |
Crew
| | | |
| --- | --- | --- |
| Parameters | 2500 Standard Roof | 2500 High Roof Extended |
| Length | 233.5 in. | 274.3 in. |
| Width w/ mirrors | 92.3 in. | 92.3 in. |
| Width w/o mirrors | 79.5 in. | 79.5 in. |
| Height | 96.3 in. | 107.3 in. |
| Wheelbase | 144 in. | 170 in. |
| Front track | 67.2 in. | 67.2 in. |
| Rear track | 68.2 in. | 68.2 in. |
| Front overhang | 40.2 in. | 40.2 in. |
| Rear overhang | 49.1 in. | 63.8 in. |
| Load height w/ load | 23.3 in. | 23.4 in. |
| Load height w/o load | 27.5 in. | 27.3 in. |
| Side-door height | 59.8 in. | 71.6 in. |
| Sliding door height | 49.3 in. | 51.0 in. |
| Rear cargo door height | 61.0 in. | 72.7 in. |
| Rear cargo door opening width | 60.7 in. | 61.2 in. |
| Ground clearance | 21.7 in. | 20.8 in. |
| Headroom | 47.3 in. | 56.4 in. |
| Shoulder room | 67.4 in. | 67.4 in. |
| Hip room | 63.7 in. | 63.7 in. |
| Legroom | 38.9 in. | 38.9 in. |
| Cargo length at floor | 103.5 in. | 144.3 in. |
| Cargo length at belt | 93.1 in. | 133.9 in. |
| Cargo width | 53.1 in. | 53.1 in. |
| Floor width | 103.5 in. | 144.3 in. |
| Max cargo height | 64.1 in. | 75.5 in. |
| Cargo capacity | 222.5 cu. ft. | 370.8 cu. ft. |
| Roof load capacity | 660 lbs. | 330 lbs. |
| Max GCWR | 13,930 lbs. | 13,930 lbs. |
| Max payload | 4,045 lbs. | 3,594 lbs. |
| Max towing capacity | 5,000 lbs. | 5,000 lbs. |
| GVWR | 9,050 lbs. | 9,050 lbs. |
Passenger
| | | |
| --- | --- | --- |
| Parameters | 1500 High Roof | 2500 High Roof Extended |
| Length | 233.5 in. | 274.3 in. |
| Width w/ mirrors | 92.3 in. | 92.3 in. |
| Width w/o mirrors | 79.5 in. | 79.5 in. |
| Height | 114.2 in. | 113.5 in. |
| Wheelbase | 144 in. | 170 in. |
| Front track | 67.2 in. | 67.2 in. |
| Rear track | 68.2 in. | 68.2 in. |
| Front overhang | 40.2 in. | 40.2 in. |
| Rear overhang | 49.1 in. | 63.8 in. |
| Load height w/ load | 23.8 in. | 23.9 in. |
| Load height w/o load | 27.2 in. | 26.3 in. |
| Side-door height | 71.6 in. | 71.6 in. |
| Sliding door height | 51.0 in. | 51.0 in. |
| Rear cargo door height | 72.7 in. | 72.7 in. |
| Rear cargo door opening width | 61.2 in. | 61.2 in. |
| Ground clearance | 20.5 in. | 24.2 in. |
| Headroom | 56.4 in. | 56.4 in. |
| Shoulder room | 67.4 in. | 67.4 in. |
| Hip room | 63.7 in. | 63.7 in. |
| Legroom | 38.9 in. | 38.9 in. |
| Cargo length at floor | 35.9 in. | 48.4 in. |
| Cargo length at belt | 25.6 in. | 37.9 in. |
| Cargo width | 53.0 in. | 53.0 in. |
| Floor width | 69.8 in. | 69.8 in. |
| Max cargo height | N/A | N/A |
| Cargo capacity | 78.6 cu. ft. | 111.2 cu. ft. |
| Roof load capacity | 243 lbs. | 243 lbs. |
| Max GCWR | 13,550 lbs. | 9,480 lbs. |
| Max payload | 2,917 lbs. | 3,087 lbs. |
| Max towing capacity | 5,000 lbs. | 0 lbs. |
| GVWR | 8,550 lbs. | 9,480 lbs. |
Cab Chassis/Cutaway
| | | |
| --- | --- | --- |
| Parameters | 3500XD Dual Rear Wheel | 3500 Super Single |
| Length | 245.9 in. | 273.5 in. |
| Width w/ mirrors | 95.5 in. | 95.5 in. |
| Width w/o mirrors | 79.5 in. | 79.5 in. |
| Height | 94.1 | 93.5 in. |
| Wheelbase | 144 in. | 170 in. |
| Front track | 66.3 in. | 67.2 in. |
| Rear track | 60.7 in. | 65.2 in. |
| Front overhang | 15.8 in. | 15.8 in. |
| Cab length | 99.4 in. | 99.4 in. |
| Top of frame to top of cab | 64.4 in. | 64.4 in. |
| Frame height w/ load | 27.0 in. | 26.9 in. |
| Headroom | 47.3 in. | 47.3 in. |
| Shoulder room | 67.4 in. | 67.4 in. |
| Hip room | 63.7 in. | 63.7 in. |
| Legroom | 38.9 in. | 38.9 in. |
| Max GCWR | 15,249 lbs. | 15,249 lbs. |
| Max payload | 6,411 lbs. | 7,484 lbs. |
| Max towing capacity | 7,500 lbs. | 7,500 lbs. |
| GVWR | 11,030 lbs. | 12,125 lbs. |
| TWR | 750 lbs. | 750 lbs. |