The width, aspect ratio, and diameter of a tire, among other physical characteristics, are referred to as tire sizes for automobiles. These dimensions are critical for figuring out whether or not a tire will work with a given car. So, what size wheels does the Hyundai Elantra come with?
The base 2023 Hyundai Elantra comes with 195/65 R15 tires. The exact tire ratings vary between trim levels.
In this guide, I'll explain what tire sizes the Hyundai Elantra uses, whether or not you can install larger tires on your car, and how tire sizes can affect performance.
2023 Hyundai Elantra Tire Size
If you navigate to the official website for the Hyundai Elantra, you'll find that it comes in 4 distinct trims—SE (base), SEL, Limited, and N Line. Expanding the exterior measurements category will show you the exact wheel and tire sizes of each trim level.
Here's a breakdown of the tire sizes for all Hyundai Elantra trims:
Parameters
SE
SEL
Limited
N Line
Tires
195/65 R15
205/55 R16

225/45 R17 with Convenience Package

235/40 R18
225/45 R17
Wheels
15 in.
16 in.

17 in. with Convenience Package

18 in.
17 in.
How to Read Tire Ratings
So, we can see that the tire ratings for the base Hyundai Elantra are 195/65 R15, but what exactly do those figures mean? The three figures for tire measurements represent the width, aspect ratio, and diameter of the tire, respectively.
Width—The first number shows the width of the tire in millimeters. The width refers to the measurement from sidewall to sidewall.
Aspect Ratio—The second number refers to the tire's aspect ratio. This ratio is the result of dividing the tire's sidewall by its width. The figure is expressed in a percentage and determines the height of the sidewall.
Diameter— The third number represents the inner rim diameter in inches. This number is critical for figuring out whether or not a given tire will work on a given vehicle.
Knowing what these 3 ratings mean, we can determine that the base Elantra uses tires that are 195 millimeters wide, has an aspect ratio of 65%, and fit rims that are 15 inches in diameter.
The Elantra trim with the largest wheels is the Limited version, which sits atop tires that are 235 millimeters wide, has an aspect ratio of 40%, and fits around rims measuring 18 inches wide.
Can You Retrofit Larger Tires on a Hyundai Elantra?
Larger tires can be installed on a car after the fact, but this isn't always the best idea. Before you go and buy bigger tires for your car, there are a few things to think about.
Larger tires can throw off your car's speedometer and odometer readings, and they can mess with your anti-lock brakes and traction control, so it's important to stick close to the original size when replacing them.
It's possible that your vehicle's suspension and steering components won't be able to handle the added weight of tires that are too large to fit in the wheel well.
If the air pressure in the tires isn't adjusted to accommodate the larger diameter, the vehicle's handling and gas mileage may suffer.
The handling and stability of a vehicle can be negatively affected by the installation of larger tires, making it more difficult to control and increasing the likelihood of accidents.
How Tire Size Affects Performance
It's important to get your tires inflated to the correct pressure for your vehicle's make and model. Choosing the right tire size is crucial because it impacts not only the vehicle's top speed but also its fuel economy, handling, and safety.
Tire size and construction are what ultimately decide the tire's maximum speed rating. Low-speed-rated tires may fail to perform adequately on a sports car or luxury vehicle due to the high speeds at which they are driven. To avoid any mishaps, check the tire's speed rating against your vehicle's top speed to make sure they are compatible.
Using tires that are the incorrect size can reduce a vehicle's MPG. Low fuel economy can be caused by having the wrong size tires installed on your vehicle. Picking the right tire size is a great way to improve gas mileage and cut costs.
The handling and security of a vehicle are also affected by the size of its tires. Improperly sized tires can alter the vehicle's center of gravity and make it more challenging to steer. When tires are the wrong size, the tread wears unevenly, which increases the stress on the tires and the suspension.
Types of Car Tires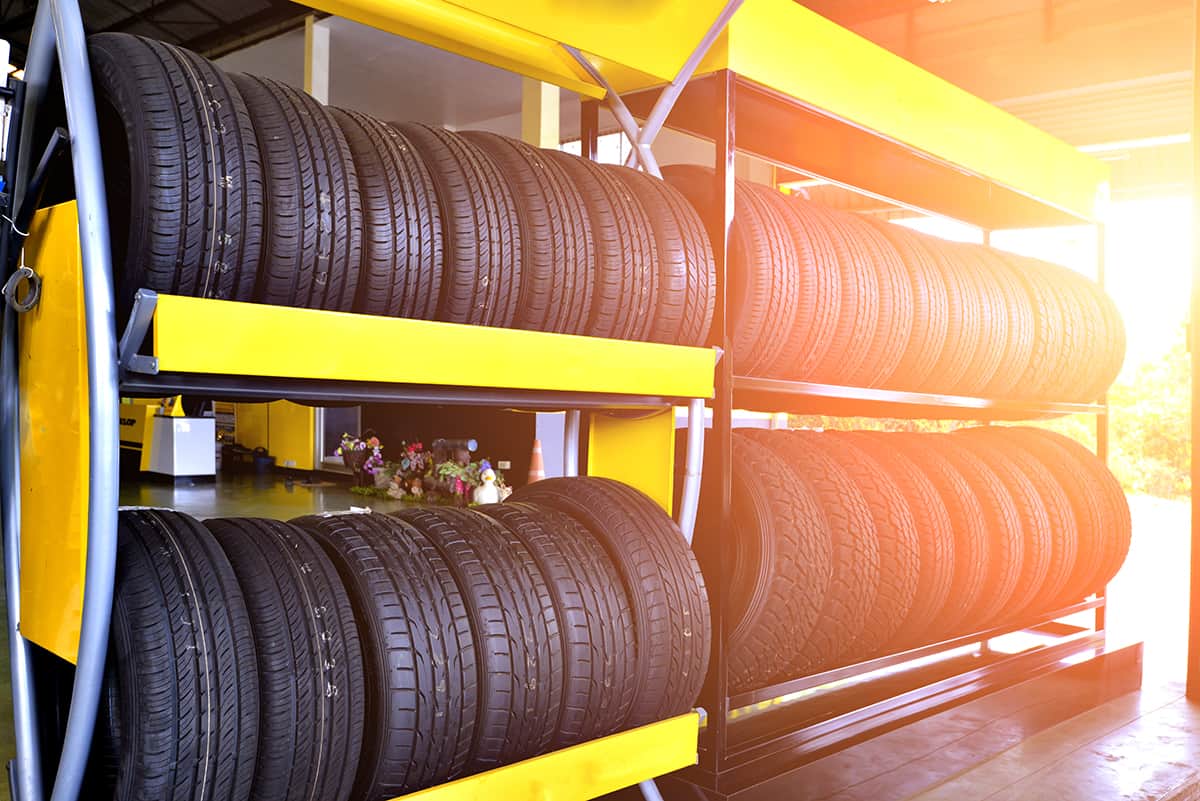 If you paid attention to the Hyundai Elantra website, you would've seen how the Limited trim comes with all-season tires, while the other trim levels don't. Let's go over the basics of the different car tire types.
Summer Tires— These tires perform exceptionally well in warm weather and are appropriate for use on dry as well as wet pavement. They are not designed to withstand the bitterly cold winter or the snow.
Winter Tires—These rubber treads were developed with the idea that they would be used in snow and ice. Their tread pattern and rubber composition are tailored to deliver superior grip in wintry conditions.
All-Season Tires—The name of these tires pretty much says it all: they're built to grip well in both hot and cold temperatures. They're great for drivers who want to avoid buying new tires every few months due to the weather.
Performance Tires—These tires are developed specifically for high-performance automobiles, and their design prioritizes maneuverability, stopping distance, and acceleration. They are commonly installed in high-end sports cars, luxury sedans, and high-performance family cars.
Touring Tires— These tires were designed to be comfortable to drive on for extended periods of time, while also being highly efficient and long-lasting. Family cars, minivans, and sedans typically have them installed.
Run-Flat Tires— These tires are built to be able to continue running after sustaining a puncture, giving the driver more time to get to a secure location where the tire can be repaired.