Mercedes-Benz automobiles are among the most cutting-edge on the market. Mercedes' onboard computers constantly monitor hundreds of separate systems, sensors, and variables, adjusting safety, and other vehicle parameters as needed to keep everything running smoothly. Basically, this means that if anything goes wrong with your car, your car will be on top of it by coming up with fault codes.
Warning lights (such as "Check Engine," "Brake," and "Temperature") illuminate when fault codes are present in your Mercedes, but this is usually insufficient for the average Mercedes owner to determine the root of the problem.
In this guide, I'll explain what fault codes are in more detail, how to get fault codes on a scanner, and what the most common fault codes are for Mercedes cars. So, whenever you're ready, just scroll down and begin.
What Is a Fault Code?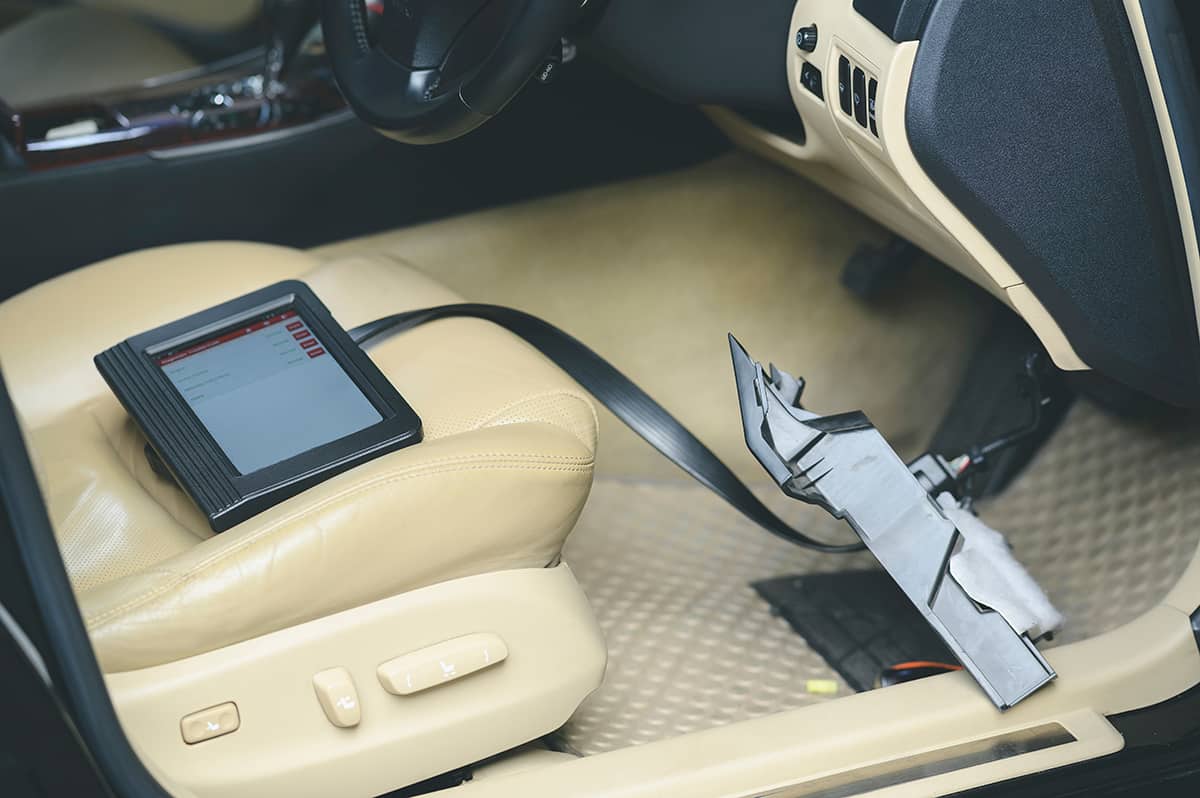 In the past, if anything went wrong with your car, a trained mechanic would rely almost entirely on guesswork to resolve the problem. This was a painstakingly long process that involved taking components apart, testing them individually, and putting them back together before testing another possibly faulty part. Nowadays, mechanics use scanners that plug into a modern vehicle to get fault code readings.
A fault code is a series of letters and numbers that describe a very particular problem in a car. They also go by the name Diagnostic Trouble Codes (DTCs) or On-Board Diagnostic II (ODB-II).
Fault codes differ from ordinary malfunction indicator lamps or MILs (engine temperature, battery warning, oil pressure, brakes, etc.) by being more precise. The MILs simply inform the driver that something's wrong under the hood or inside, whereas fault codes can tell an informed user of what the precise problem is.
Deciphering DTCs
Each DTC will contain 5 characters with at least 1 letter, with the first character always being a letter.
1st character
There are 4 characters that will show up in the beginning—P, C, B, and U.
P refers to powertrain problems, which cover engine, transmission, and any associated parts.
C refers to chassis problems, including steering, suspension, and braking functions.
B refers to body problems, which will cover almost every part of the passenger area.
U refers to network and vehicle integration problems, which are mainly derived from the onboard computer.
2nd character
There are only 2 codes here—0 and 1.
0 is the SAE code, a.k.a. a generic or global code.
1 is the manufacturer's code, a.k.a. enhanced code.
3rd character
This code ranges from 0 to 7.
0 refers to fuel and air controls.
1 refers to fuel and air metering.
2 refers to fuel and air metering, along with the injector circuit.
3 refers to the ignition system, including misfires.
4 refers to auxiliary emissions controls.
5 refers to speed control, idle control system, and aux inputs.
6 refers to the computer and output circuitry.
7 refers to the transmission.
In addition, there may be A, B, or C codes in the 3rd character's spot. These letters refer specifically to hybrid propulsion systems.
4th and 5th characters
The final numbers refer to a specific component related to a faulty system. You will see what examples of these characters mean in another section.
Hot to Get DTC Codes
Before doing anything, you first need to pick up a DTC scanner, such as the Bosch ADS 625 Model 3920. After receiving the scanner, now you need to figure out how to get the DTC readings from your car.
Locate the 16-pin connector in your car. Most Mercedes will have them somewhere underneath the dash. If you're struggling to locate the connector, open up the owner's manual and follow the diagram.
Plug the DTC scanner into the 16-pin connector.
Turn on your car following the DTC scanner's instructions. For some models, you only to turn your car on to the accessory position, which is the 2nd position when you turn the key in the ignition. For push-button ignition systems, simply press the button without hitting the brake pedal.
Turn on the DTC scanner and navigate to the "Read Codes" section (depending on the scanner model). If the scanner isn't specifically built for Mercedes cars, you will need to input your car's info (make and model).
Let the DTC scanner run until the screen shows error codes.
Now, it's important to note that a DTC scanner does not fix your car. It simply identifies the problem, which you can convey to your mechanic (who will probably run another DTC test, just to be sure).
Mercedes Fault Codes List
With the basic information regarding DTCs out of the way, it's time to look at a few examples. The following list is incomplete as it only shows some of the most common DTCs that will appear on your screen. If you're getting a reading outside of what shows on the scanner's display, I recommend getting your car checked out by a professional mechanic.
DTC
Meaning
P0466
Purge Flow Sensor Circuit Range/Performance
P0467
Purge Flow Sensor Circuit Low Input
P0468
Purge Flow Sensor Circuit High Input
P0469
Purge Flow Sensor Circuit Intermittent
P0470
Exhaust Pressure Sensor Malfunction
P0471
Exhaust Pressure Sensor Range/Performance
P0472
Exhaust Pressure Sensor Low
P0473
Exhaust Pressure Sensor High
P0474
Exhaust Pressure Sensor Intermittent
P0475
Exhaust Pressure Control Valve Malfunction
P0476
Exhaust Pressure Control Valve Range/Performance
P0477
Exhaust Pressure Control Valve Low
P0478
Exhaust Pressure Control Valve High
P0479
Exhaust Pressure Control Valve Intermittent
P0480
Cooling Fan 1 Control Circuit Malfunction
P0481
Cooling Fan 2 Control Circuit Malfunction
P0482
Cooling Fan 3 Control Circuit Malfunction
P0483
Cooling Fan Rationality Check Malfunction
P0484
Cooling Fan Circuit Over Current
P0485
Cooling Fan Power/Ground Circuit Malfunction
P0500
Vehicle Speed Sensor Malfunction
P0501
Vehicle Speed Sensor Range/Performance
P0502
Vehicle Speed Sensor Low Input
P0503
Vehicle Speed Sensor Intermittent/Erratic/High
P0505
Idle Control System Malfunction
P0506
Idle Control System RPM Lower Than Expected
P0507
Idle Control System RPM Higher Than Expected
P0510
Closed Throttle Position Switch Malfunction
P0520
Engine Oil Pressure Sensor/Switch Circuit Malfunction
P0521
Engine Oil Pressure Sensor/Switch Circuit Range/Performance
P0522
Engine Oil Pressure Sensor/Switch Circuit Low Voltage
P0523
Engine Oil Pressure Sensor/Switch Circuit High Voltage
P0530
A/C Refrigerant Pressure Sensor Circuit Malfunction
P0531
A/C Refrigerant Pressure Sensor Circuit Range/Performance
P0532
A/C Refrigerant Pressure Sensor Circuit Low Input
P0533
A/C Refrigerant Pressure Sensor Circuit High Input
P0534
Air Conditioner Refrigerant Charge Loss
P0550
Power Steering Pressure Sensor Circuit Malfunction
P0551
Power Steering Pressure Sensor Circuit Range/Performance
P0552
Power Steering Pressure Sensor Circuit Low Input
P0553
Power Steering Pressure Sensor Circuit High Input
P0554
Power Steering Pressure Sensor Circuit Intermittent
P0560
System Voltage Malfunction
P0561
System Voltage Unstable
P0562
System Voltage Low
P0563
System Voltage High
P0565
Cruise Control On Signal Malfunction
P0566
Cruise Control Off Signal Malfunction
P0567
Cruise Control Resume Signal Malfunction
P0568
Cruise Control Set Signal Malfunction
P0569
Cruise Control Coast Signal Malfunction
P0570
Cruise Control Accel Signal Malfunction
P0571
Cruise Control/Brake Switch A Circuit Malfunction
P0572
Cruise Control/Brake Switch A Circuit Low
P0573
Cruise Control/Brake Switch A Circuit High
P0574
Cruise Control Related Malfunction
P0575
Cruise Control Related Malfunction
P0576
Cruise Control Related Malfunction
P0576
Cruise Control Related Malfunction
P0578
Cruise Control Related Malfunction
P0579
Cruise Control Related Malfunction
P0580
Cruise Control Related Malfunction
P0600
Serial Communication Link Malfunction
P0601
Internal Control Module Memory Check Sum Error
P0602
Control Module Programming Error
P0603
Internal Control Module Keep Alive Memory (KAM) Error
P0604
Internal Control Module Random Access Memory (RAM) Error
P0605
Internal Control Module Read Only Memory (ROM) Error
P0606
PCM Processor Fault
P0608
Control Module VSS Output "A" Malfunction
P0609
Control Module VSS Output "B" Malfunction
P0620
Generator Control Circuit Malfunction
P0621
Generator Lamp "L" Control Circuit Malfunction
P0622
Generator Field "F" Control Circuit Malfunction
P0650
Malfunction Indicator Lamp (MIL) Control Circuit Malfunction
P0654
Engine RPM Output Circuit Malfunction
P0655
Engine Hot Lamp Output Control Circuit Malfunction
P0656
Fuel Level Output Circuit Malfunction
P0700
Transmission Control System Malfunction
P0701
Transmission Control System Range/Performance
P0702
Transmission Control System Electrical
P0703
Torque Converter/Brake Switch B Circuit Malfunction
P0704
Clutch Switch Input Circuit Malfunction
P0705
Transmission Range Sensor Circuit malfunction (PRNDL Input)
P0706
Transmission Range Sensor Circuit Range/Performance
P0707
Transmission Range Sensor Circuit Low Input
P0708
Transmission Range Sensor Circuit High Input
P0709
Transmission Range Sensor Circuit Intermittent
P0710
Transmission Fluid Temperature Sensor Circuit Malfunction
P0711
Transmission Fluid Temperature Sensor Circuit Range/Performance
P0712
Transmission Fluid Temperature Sensor Circuit Low Input
P0713
Transmission Fluid Temperature Sensor Circuit High Input
P0714
Transmission Fluid Temperature Sensor Circuit Intermittent
P0715
Input/Turbine Speed Sensor Circuit Malfunction
P0716
Input/Turbine Speed Sensor Circuit Range/Performance
P0717
Input/Turbine Speed Sensor Circuit No Signal
P0718
Input/Turbine Speed Sensor Circuit Intermittent
P0719
Torque Converter/Brake Switch B Circuit Low
P0720
Output Speed Sensor Circuit Malfunction
P0721
Output Speed Sensor Range/Performance
P0722
Output Speed Sensor No Signal
P0723
Output Speed Sensor Intermittent
P0724
Torque Converter/Brake Switch B Circuit High
P0725
Engine Speed input Circuit Malfunction
P0726
Engine Speed Input Circuit Range/Performance
P0727
Engine Speed Input Circuit No Signal
P0728
Engine Speed Input Circuit Intermittent
P0730
Incorrect Gear Ratio
P0731
Gear 1 Incorrect Ratio
P0732
Gear 2 Incorrect Ratio
P0733
Gear 3 Incorrect Ratio
P0734
Gear 4 Incorrect Ratio
P0735
Gear 5 Incorrect Ratio
P0736
Reverse Incorrect Gear Ratio
P0740
Torque Converter Clutch Circuit Malfunction
P0741
Torque Converter Clutch Circuit Performance or Stuck Off
P0742
Torque Converter Clutch Circuit Stuck On
P0743
Torque Converter Clutch Circuit Electrical
P0744
Torque Converter Clutch Circuit Intermittent
P0745
Pressure Control Solenoid Malfunction
P0746
Pressure Control Solenoid Performance or Stuck Off
P0747
Pressure Control Solenoid Stuck On
P0748
Pressure Control Solenoid Electrical
P0749
Pressure Control Solenoid Intermittent
P0750
Shift Solenoid A Malfunction
P0751
Shift Solenoid A Performance or Stuck Off
P0752
Shift Solenoid A Stuck On
P0753
Shift Solenoid A Electrical
P0754
Shift Solenoid A Intermittent
P0755
Shift Solenoid B Malfunction
P0756
Shift Solenoid B Performance or Stuck Off
P0757
Shift Solenoid B Stuck On
P0758
Shift Solenoid B Electrical
P0759
Shift Solenoid B Intermittent
P0760
Shift Solenoid C Malfunction
P0761
Shift Solenoid C Performance or Stuck Off
P0762
Shift Solenoid C Stuck On
P0763
Shift Solenoid C Electrical
P0764
Shift Solenoid C Intermittent
P0765
Shift Solenoid D Malfunction
P0766
Shift Solenoid D Performance or Stuck Off
P0767
Shift Solenoid D Stuck On
P0768
Shift Solenoid D Electrical
P0769
Shift Solenoid D Intermittent
P0770
Shift Solenoid E Malfunction
P0771
Shift Solenoid E Performance or Stuck Off
P0772
Shift Solenoid E Stuck On
P0773
Shift Solenoid E Electrical
P0774
Shift Solenoid E Intermittent
P0780
Shift Malfunction
P0781
1-2 Shift Malfunction
P0782
2-3 Shift Malfunction
P0783
3-4 Shift Malfunction
P0784
4-5 Shift Malfunction
P0785
Shift/Timing Solenoid Malfunction
P0786
Shift/Timing Solenoid Range/Performance
P0787
Shift/Timing Solenoid Low
P0788
Shift/Timing Solenoid High
P0789
Shift/Timing Solenoid Intermittent
P0790
Normal/Performance Switch Circuit Malfunction
P0801
Reverse Inhibit Control Circuit Malfunction
P0803
1-4 Upshift (Skip Shift) Solenoid Control Circuit Malfunction
P0804
1-4 Upshift (Skip Shift) Lamp Control Circuit Malfunction
P0805
Clutch Position Sensor Circuit Malfunction
P0806
Clutch Position Sensor Circuit Range/Performance
P0807
Clutch Position Sensor Circuit Low
P0808
Clutch Position Sensor Circuit High
P0809
Clutch Position Sensor Circuit Intermittent Ckt
P0810
Clutch Position Control Malfunction
P0811
Clutch Slippage Excessive
P0812
Reverse Input Circuit Malfunction
P0813
Reverse Output Circuit Malfunction
P0814
Trans Range Display Circuit Malfunction
P0815
Upshift Switch Circuit Malfunction
P0816
Downshift Switch Circuit Malfunction
P0817
Starter Disable Circuit
P0818
Driveline Disconnect Switch Input
P0820
Gear Lever X-Y Sensor Circuit
P0821
Gear Lever X Sensor Circuit
P0822
Gear Lever Y Sensor Circuit
P0823
Gear Lever X Sensor Circuit Intermittent Ckt
P0824
Gear Lever Y Sensor Circuit Intermittent Ckt
P0830
Clutch Position Switch A Circuit Malfunction
P0831
Clutch Position Switch A Circuit Low
P0832
Clutch Position Switch A Circuit High
P0833
Clutch Position Switch B Circuit Malfunction
P0834
Clutch Position Switch B Circuit Low
P0835
Clutch Position Switch B Circuit High
P0836
4 Wheel Drive Switch Circuit Malfunction
P0837
4 Wheel Drive Switch CKT Range/Perf
P0838
4 Wheel Drive Switch Circuit Low
P0839
4 Wheel Drive Switch Circuit High
P0840
Trans Fluid Press Sensor/Switch A Circuit Malfunction
P0841
Trans Fluid Press Sensor/Switch A CKT Range/Perf
P0842
Trans Fluid Press Sensor/Switch A Circuit Low
P0843
Trans Fluid Press Sensor/Switch A Circuit High
P0844
Trans Fluid Press Sensor/Switch A CKT Intermittent
P0845
Trans Fluid Press Sensor/Switch B Circuit Malfunction
P0846
Trans Fluid Press Sensor/Switch B CKT Range/Perf
P0847
Trans Fluid Press Sensor/Switch B Circuit Low
P0848
Trans Fluid Press Sensor/Switch B Circuit High
P0849
Trans Fluid Press Sensor/Switch B CKT Intermittent
P1000
Electronic Gear Selector Module: Defective N15/5
P1228
yet unknown code on 1997 C 220 CDI
P1386
knock control
P1570
Intermittent No-Start Immobilizer Module
P1747
Electronic Gear Selector Module: Defective Interaction of CAN with control unit A1(instrument cluster)
P1750
Electronic Gear Selector Module: Very low control unit supply voltage
P1832
Electronic Gear Selector Module: SHORT in circuit N15/5 output stage
P1910
Electronic Gear Selector Module: Control Unit over voltage
P1912
Electronic Gear Selector Module: Weak touch push button voltage
P2000
NOx Trap Efficiency Below Threshold (Bank 1)
P2001
NOx Trap Efficiency Below Threshold (Bank 2)
P2003
Particulate Trap Efficiency Below Threshold (Bank 1)
P2004
Particulate Trap Efficiency Below Threshold (Bank 2)
P2031
Exhaust Gas Temperature Sensor Circuit (Bank 1 Sensor 2)
P2032
Exhaust Gas Temperature Sensor Circuit Low (Bank 1 Sensor 2)
P2033
Exhaust Gas Temperature Sensor Circuit High (Bank 1 Sensor 2)
P2080
Exhaust Gas Temperature Sensor Circuit Range/Performance (Bank 1 Sensor 1)
P2081
Exhaust Gas Temperature Sensor Circuit intermittant (Bank 1 Sensor 1)
P2100
Throttle Actuator Control Motor Circuit/Open
P2101
Throttle Actuator Control Motor Circuit Range/Performance
P2208
transmission: The speed of Y3/6n2 to Y3/6n3 is excessive
B1000
HRA Headlamp range adjustment: Supply voltage of the control unit is too low (undervoltage)
B1004
LCP Lower Control Panel: Control unit does not match vehicle type
B1056
Automatic Air Conditioning: Problem in CAN communication with control unit DCM-RL
B1201
Electric seat adjustment front left: Hall sensor front height M27m3
B1213
If seat memory installed: ext right rearview mirror voltage faulty
B1214
If seat memory installed: ext right rearview mirror voltage faulty
B1226
In-car temperature sensor (B10/4)
B1227
Outside temperature indicator temp sensor (014)
B1128
Heater core temperature (B10/1)
B1229
Heater core temperature (B10/1)
B1230
Evaporator temperature sensor (B10/6)
B1231
ECT sensor (B11/4)
B1232
Refrigerant pressure sensor (B12)
B1233
Refrigerant temperature sensor (B12/1)
B1234
Sun sensor (B32)
B1235
Emissions sensor (B31)
B1241
Refrigerant Fill
B1246
PTS Parktronic: A42b1 (left outer sensor, front bumper) The plug connection has poor contact or is loose, or the sensor or cable is faulty
B1310
Left/Window airbag sensor is defective
B1315
Problem in Front passenger child seat recognition
B1416
Coolant circulation pump (M13)
B1417
Duovalve (Y21y1), left
B1418
Duovalve (Y21y2), right
B1419
Electromagnetic clutch (A9k1)
B1420
Idle speed increase
B1421
Pulse module (N05)
B1422
Series interface (K1) connection to instrument cluster (A1)
B1423
Switchover valve block (Y11)
B1424
Activated charcoal filler actuator (A32m2) open
B1425
Activated charcoal filler actuator (A32m2) closed
B1432
Non-USA DTC
B1459
Series interface (K2) connection to instrument cluster (A1)
B1462
Wide open throttle (WOT) position signal diesel engines
B1476
Airbag malfunction indicator and warning lamp is defective
B1481
HRA: Part E2m1 (Right headlamp range adjustment motor) has short to ground
B1489
HRA: Part E2m1 (Right headlamp range adjustment motor) has open or short to positive
B1492
HRA: Part E1m1 (Left headlamp range adjustement motor) has short to positive/td>
B1617
Part E19/1 (Left license plate lamp) is defective
B1618
Part E19/2 (Right license plate lamp) is defective
B1628
Part E2e5 (Turn signal lamp) in module E2 (Right front headlamp unit) is defective.
B1703
Intermittant No Start in AAM Immobiliser Module
B1729
PSE Pneumatic system doorlock Control Module A37
B1736
Navigation system's CD Player: Check General CD, Check CD data block, Flimsy CD data
B1768
Faulty open data flap limit switch (0025) Front flap
B1773
HRA: Zero position programming has not yet been carried out or is not possible
B1850
Electric seat adjustment front right: CAN communication interrupted with DCMC1000 Traction System Control Module